Article • New product from Sony launched at MEDICA
Launch of the PMW-10MD HD Camera
At MEDICA today, Sony announced the launch of the new PMW-10MD 2-piece HD camera, its first HD camera designed purely for the medical market. The camera breaks new ground offering unbeatable image quality for high precision surgical applications.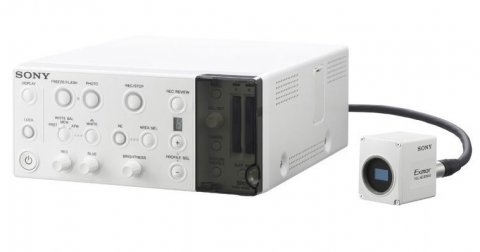 "We're very proud to announce the introduction of the PMW-10 MD 2-piece camera," says Philip Vallender, Product Marketing Manager, Sony Medical. "We believe that this camera breaks the mould for medical image capture. The 1/2" CMOS sensor is new in this marketplace and we have designed the camera around this technology to fit the evolving needs of precision surgery."
The PMW-10MD is the first camera to use full HD 1/2" CMOS sensors rather than the industry standard 1/3 CCD sensors. The 3-chip 1/2" Exmor Full HD CMOS sensor, already used in Sony's professional broadcast cameras, offers unrivalled picture quality and on-board storage. The 1/2" sensors allow for native HD at the sensor and negate the need for pixel shifting and image manipulations while delivering high sensitivity (F10), dynamic range (450%) and signal/noise ratio (54dB).
In addition to the enhanced image quality, Sony has added further value with on-board MPEG2 video and JPEG still image recording facilities. Other special features include image reversing, flash trigger output and foot control input.
For further information please visit: www.sonybiz.net