Korea's advanced ultrasound and digital X-ray equipment
Samsung Medison and Samsung Electronics are in the Austria Centre introducing visitors to new products, including an advanced ultrasound system and a digital X-ray series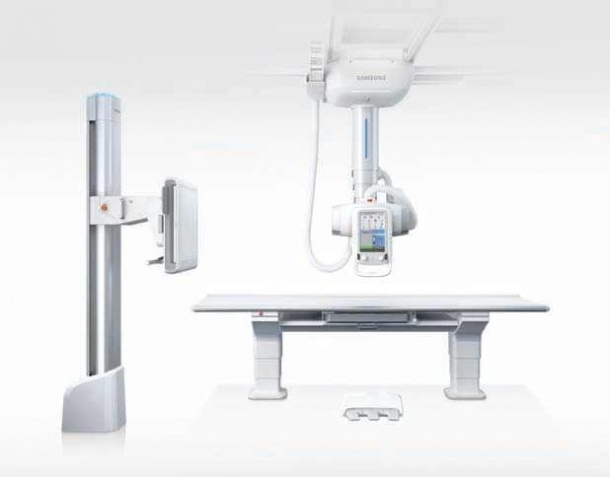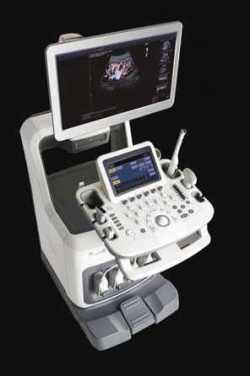 Samsung Medison reports that its latest ultrasound system, the Accuvix A30 is 'leading the new standard' in supporting more accurate, easier and effortless diagnosis. 'It has a world-first 21.5-inch full HD LED monitor with touch controls, perfectly offering state of the art imaging. Additionally, the powerful hybrid beamforming engine helps to enhance 2-D ultrasound imaging while greater power further improves colour performance. Uncompromising image quality supports clinical decision-making and helps users to save time and effort,' the company adds.
The system also provides a new function to 'dramatically' improve operational consistency and convenience for users. 'EZ Exam stores the workflow protocol, which can be operated by single touch of a button. ADVR makes real-time DVD and USB recording, creating an environment that allows users to choose desired recording areas,' and the company adds, 'its ergonomic design empowers users to provide higher-level care.'
The company first launched the Accuvix A30 last February at the Korea International Medical and Hospital Equipment Show (KIMES).
The XGEO CG80
Samsung Electronics reports a high-quality digital radiography performance, simplified workflow, increased throughput and workplace efficiency for those using the XGEO GC80.
'With Samsung's advanced technology and expertise in TFT (thin film transistor) design, Samsung is committed to developing TFT-based flat panel detectors with built-in ALDAS (Advanced Low Dose Amorphous Silicon Sensor), delivering maximised image quality, immediate results and diverse applications,' the company reports. 'Even with dose reduction, the XGEO GC80 still guarantees accurate images and provides diagnostic confidence. Users can easily operate the THU (Tube Head Unit) with its soft handling technology, even without a side-handle. Low-level noise and easy handling technology enable users to operate the THU with low physical pressure. The THU integrates a 12-inch wide touch screen to optimise user convenience and check-up procedures.'
The firm is also showing the XGEO GU60 (U-Arm type) and XGEO GR40 (Retrofit type) aimed at meeting specific needs of customers.
The XGEO series was launched in Korea in February, and the firm plans to expand its sales reach to countries in Europe and the Middle East from the second quarter of 2012.

More on the subject:
More on companies: