Intergroup Exemestane Study (IES) results
Currently, five years of treatment with tamoxifen is considered the 'gold-standard' treatment for postmenopausal women with breast cancer. This drug blocks oestrogen, which can help fuel the growth of tumours in some cases.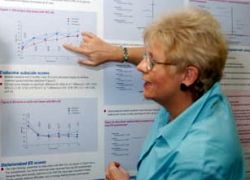 Now, Instead of tamoxifen, many women are now given (orally) aromatase inhibitors following breast surgery. Aromatase inhibitors inhibit the enzyme aromatase, thus blocking oestrogen production.

According to the Intergroup Exemestane Study (IES) results, presented at the annual meeting of the American Society of Clinical Oncology in June, the drug aromasin, generically known as exemestane, and other aromatase inhibitors, cut the risk of death among some postmenopausal women with hormone-sensitive primary breast cancer by 17% compared with the standard tamoxifen treatment.

The UK-led five-year study involved over 4,700 post-menopausal women with early-stage hormone-sensitive breast cancer, who were disease-free after taking tamoxifen for two to three years. Around 50% in the group remained on tamoxifen, whilst the rest were given Aromasin (2,372 women). Their progress was then tracked for about two-and-a-half years after treatment ended.
The researchers reported that the women who switched to Aromasin had a 17% lower risk of dying from the disease than those who continued on tamoxifen. Deaths: 210 in the Aromasin group; 251 in the tamoxifen group. In addition, the rate of tumours appearing in the opposite breast reduced by 44%.