Article • Images and patient data combined
Integrated radiomics improves clinical outcomes
Harnessing the power of radiomics, and adopting an integrated approach to combine imaging and patient data could lead to better clinical cancer outcomes. The move has opened the door for clinicians to explore a non-invasive approach to identify the heterogeneity of a tumour and more accurately target regions for biopsy.
Report: Mark Nicholls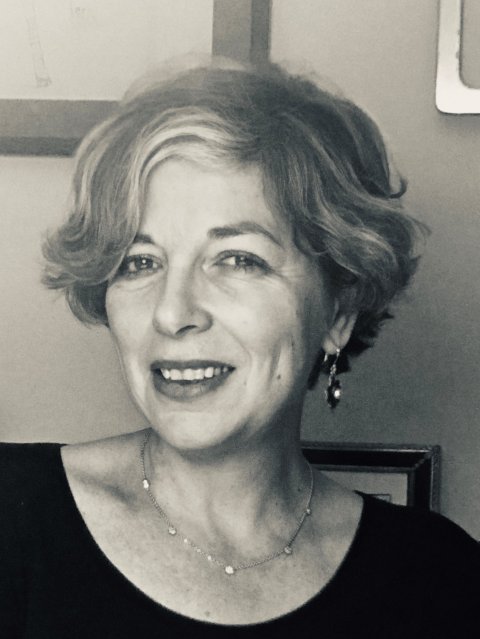 During a presentation at ECR 2021, Professor Evis Sala will underline the importance of integrating data to build a clear, non-invasive, diagnosis and potentially cut down on the need for biopsies, as imaging and radiomics builds up a clear view of a lesion. Her current research focuses on integrated diagnostics through the clinical development and validation of functional imaging biomarkers to rapidly evaluate treatment response using physiologic and metabolic tumour habitat imaging. Sala's presentation, 'Linking radiomics features to other omics data in clinical practice', will review potential applications of the emerging field of radiogenomics, and discuss how to analyse big data.
In Cambridge, the team combines multi-layered data – radiomics, clinical, and blood data (CA 125 in the case of ovarian cancer) – with e-genomics, including circulating tumour DNA, as well as patients' background history, to develop algorithms for predicting treatment response.
Robust data to create a robust biomarker
Underlining the need to have robust data to create a robust biomarker, Sala's examples will concentrate on CT scan and ovarian cancer. She also emphasises the importance of keeping the research grounded in everyday practice, to ensure the developed biomarkers actually will be useful in the clinic.
A challenge lies in making the transition from qualitative research and data to quantitative findings and turning that image data into numbers. 'That's not going to be pretty to the eye,' she acknowledged. 'As radiologists we are visual, but we have to extract things we don't see with our bare eye because that's where the quantitative information is.'
Sala, whose work integrates quantitative imaging methods for evaluation of spatial and temporal tumour heterogeneity with genomics, proteomics and metabolomics, points out that the additional features to acquire the quantitative information rely on heterogeneity, which is imperceptible to the human eye. 'It might not be exciting to radiologists, but it is so crucial to feed that information into the algorithms that can actually predict response and outcome.'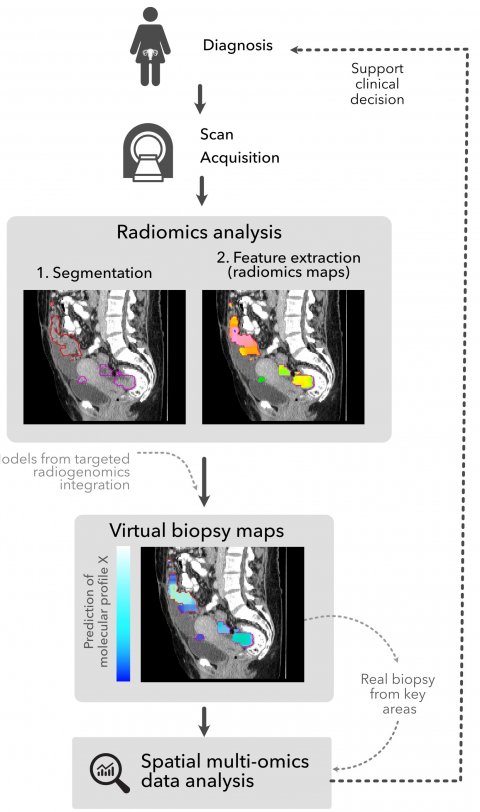 To extract the quantitative features from an image, the first major step is to segment the lesion. Whilst laborious in metastatic disease, this has led to the development of automatic segmentation. Once the lesion is segmented and the radiomics data extracted, it is fed into the treatment prediction algorithm with other clinical and molecular data. Her team is working on the use of this tool to create a 'virtual biopsy' to reduce the number of biopsies needed, by more precisely targeting the optimum site for biopsy. 'With imaging, this can track the entire tumour border, not just one lesion, and point out the region for biopsy.'
Sala believes the concept is close to deployment in the setting of a clinical trial and validation. 'It's about understanding the biology of what we are seeing, how we can use this cross-scale investigation and interrogation to then limit the number of biopsies, or biopsy the most useful part of the tumour.'
A key learning point from this ECR session will be that maximum benefit is achieved from integrating the data. 'Integrating them will give a more powerful, robust way of predicting an outcome,' Sala added. She also emphasised the importance of radiologists enhancing their contribution by gaining knowledge of oncology; teamwork; having a multi-disciplinary approach with algorithm developers working closely with clinicians to develop the AI; and bringing patients into the research phase for the perspective they offer.
Other speakers in the session will cover radiomics and phenotyping cancer, taking radiomics from research to clinics in cancer imaging, and looking at research in radiomics through the EUCAN Image project.
*NH2 - 4.45-5.45pm. Radiology sequencing: massive radiomics analysis in practice, Wednesday, 3 March 2021.
Profile:
Professor Evis Sala is a consultant radiologist at Addenbrooke's Hospital, Cambridge, UK, and, since late 2017, has been Professor of Oncological Imaging at the University of Cambridge, having previously served as Chief of Body Imaging Service at Memorial Sloan Kettering Cancer Center. Sala leads the Radiogenomics and Quantitative Imaging Group in the Department of Radiology and co-leads the Cancer Research UK (CRUK) Cambridge Centre Integrative Cancer Medicine Theme and Advanced Cancer Imaging Programme. Her research focuses on integrated diagnostics, through the clinical development and validation of functional imaging biomarkers and in the evolving field of radiogenomics.