Innovative imaging solutions
With HI Vision Preirus ultrasound system and the Oasis Open MRI system, Hitachi Medical Systems offers advanced imaging technology combined with maximum patient comfort.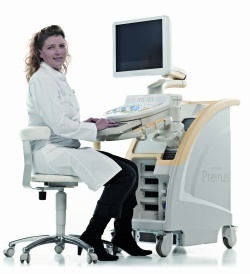 A compact premium ultrasound platform that adapts to your environment
Since introducing the first real-time ultrasound machine with digital scan converter in 1980, Hitachi has developed a rich technological expertise which now delivers the HI VISION Preirus - a new generation ultrasound platform with advanced ergonomic architectural design, the latest broadband beamforming technology and ultrahigh-speed processing capability.
The unique design of the HI VISION Preirus platform allows precise adjustment to facilitate the performance of any examination by any operator. With its super slim-line footprint, and operator console with large digital LCD viewing monitor moving together in a rotational arc, positioning at the bedside can be optimised to make diagnosis a more comfortable experience for you and your patient.
The art of effective imaging - customised scanning parameters are combined with high speed image processing for improved diagnostic confidence. Proven innovative technologies confer superior penetration, temporal, spatial and contrast resolution giving high quality images for every patient every time.
Learn more about Hitachi´s ultrasound and elastography solutions in daily practice:
Elastography - Hitachi expands technology applications
Realtime-Sonoelastography to detect and characterize breast lesions
Sonoelastography´s 2nd generation tools aid research
Elastosonography and the detection of breast carcinomas
Breast cancer screening in France
The ultimate open patient MRI
Oasis is the most powerful patient-friendly whole body high field open MRI system.The unique two pillar asymmetric gantry design provides the best patient experience in terms of MRI comfort. The vertical field magnet with iron core technology in combination with the newest gradient and RF technology guarantees unmatched image quality throughout all applications.
The easy to use operating system and extremely fast image reconstruction engine ensures you a high patient throughput in the current highly demanding clinical environment.
The unique open architecture not only meets the current requirements of patients regarding comfort, but also gives access to patients previously not suitable for conventional MRI scans.
Learn more about Oasis in daily practice:
Instead of the "Tube" – An Innovative MRI is open for all Patients
Hitachi at Medica 2009:
More on the subject:
More on companies: