Cardiology
Implantable cardiac monitors
Syncope (fainting) is a leading cause of hospital emergency visits. In almost 10% of patients, syncope has a cardiac cause; in 50%, a non-cardiac cause, and in 40% the cause of syncope is unknown. Syncope is difficult to diagnose as syncopal episodes are often too infrequent and unpredictable for detection with conventional monitoring techniques.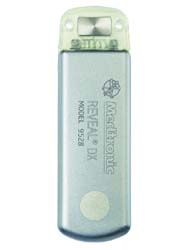 Medtronic reports that its new Reveal DX and Reveal XT can provide diagnostic and monitoring insights into cases of syncope or abnormal heart rhythms, including ventricular tachyarrhythmias (VT), fast ventricular tachyarrhythmias (FVT), bradyarrhythmias and asystole. 'The Reveal DX continuously monitors the heart's electrical activity to help physicians diagnose whether or not there is a cardiovascular cause for symptoms such as fainting, dizziness and unexplained seizure-like episodes.'
During a simple out-patient procedure, the Reveal DX monitor – weighing just 15g and about the size of a memory stick – is placed subcutaneously in the chest area using local anaesthesia. The monitor then records important cardiac rhythm data, which may help a physician to diagnose the patient and provide appropriate treatment.
Unlike a pacemaker or implantable cardioverter-defibrillator, there are no leads (tiny wires) that extend from the device into the heart's chamber(s). To store an electrocardiogram (ECG) at the time of an episode, a patient places a hand-held, pager-sized activator over the device and presses a button. Later a physician analyses the stored information and determines if the episode was caused by an abnormal heart rhythm.
More on the subject:
More on companies: