Image analysis opens new frontier in radiology
You won't find a single new machine among the novel technology shaping radiology. Instead software, not hardware, is the key that is opening new frontiers.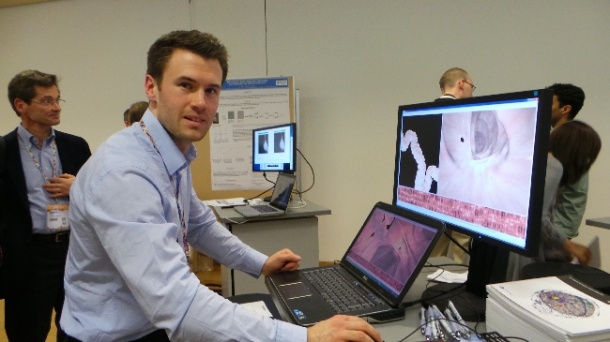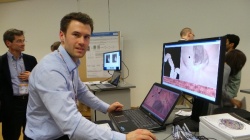 The European Institute for Biomedical Imaging Research (EIBIR) a second year has organized the IMAGINE session at the European Congress of Radiology (ECR) to create an opportunity for research institutes, university groups and companies to present the latest technological developments.
What is clear is the outside-the-box thinking in radiology today is actually focused on what is inside the box, those massive banks of computers storing vast records of medical images.

Oncological image analysis was the focus of the first day for the IMAGINE presentations at ECR.
Bringing order out of chaos. The Quiron Hospital Group is made up on 20 different radiology centers across Spain with an even greater number of RIS/PACS systems. Integrating biomarker imaging generated by these diverse systems for a common structured reporting was the challenge taken up by a group of engineers based in Quiron's center in Valencia.

"All of this data coming from post-processing tools has to be checked for quality before going to report generation and then to storage with meta tags so that it can be retrieved and reviewed," explained Ángel Alberich-Bayarri.

The middleware solution that combines DICOM data with reporting from the diverse radiology centers today is also proving useful for consolidating and homogenizing images from neurology, cardio-vascular, abdominal and muscoskeletal.
A better map for colon fly-thrus. Virtual colonoscopy is breathtaking, enabling radiologists to fly through a digestive system in three dimensions to spot suspect polyps and outright tumors. The achievement is less exciting for surgeons or gastroenterologists who need to go in and treat the targeted tumors. Matching the map to the territory is far from precise at this stage, according to Thomas Hampshire with the Centre for Medical Image Computing (CMIC) at the University College London.
CT images for a virtual colonoscopy are captured in two views, the prone and supine. The current commercial approach to registering the two images uses a common centerline that approximates the position of detected lesions.

"It's seen as good enough for many purposes, but for planning a direct intervention there is a risk of missing the targets," explained Hampshire, showing how hard-to-find polyps hide behind folds, how down becomes up in different views, and importantly, how a surgeon may remove a polyp in the described position that is not the targeted malignant polyp.

The CMIC team wants to get closer with accurate registration, at least to within one centimeter of the actual target position, ultimately within 10 millimeters, said colleague Holger Roth. To date the team has demonstrated a successful alignment of endoluminal views in 82% of cases.

Back to the future. Women with dense breast tissue have a higher risk profile for developing breast cancer. With digital breast exams, it is easy to identify these women who need to be screened regularly. Yet exams for post-menopausal women are held on film records.

"In Copenhagen alone we have two million mammograms in the basement," said Mads Nielsen with Biomediq, which has developed a full automated method for estimating density on film-based breast images. Pitting man against machine, the computer detection returned nearly identical results with a radiologist.