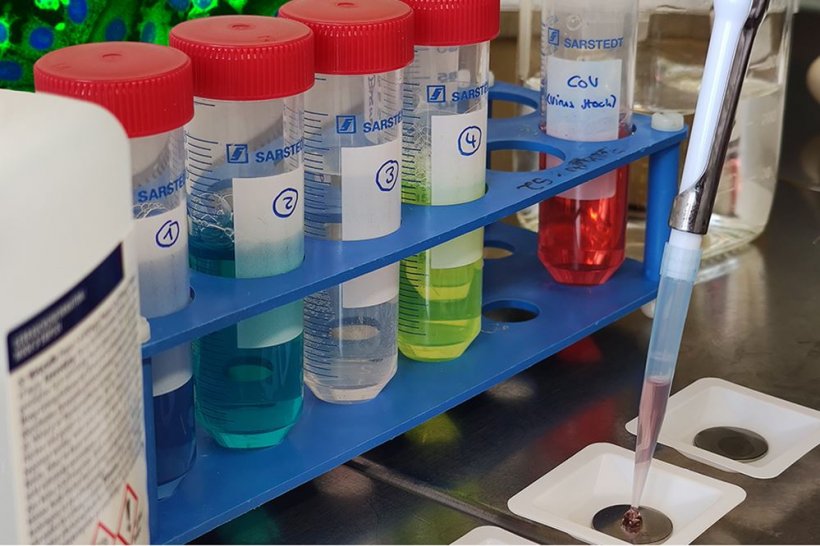 © Toni Luise Meister und Stephanie Pfänder
News • COVID-19 longevity
How long can the coronavirus persist on surfaces?
How long can coronavirus persist on surfaces such as door handles or hospital nightstands? How can the virus be destroyed effectively? A research team from Greifswald and Bochum, Germany, collected the answers scientists can currently offer to these and other pertinent questions and published them in the Journal of Hospital Infection.
These days, the novel coronavirus SARS-CoV-2 (formerly known as 2019-nCoV) is dominating the headlines worldwide. Since no specific therapies are available yet, infection prevention is crucial in order to contain the virus. Just like any other droplet infection the virus spreads via hands and frequently touched surfaces. "In a hospital these might be door handles, but also night bells, bedside lockers and tables, bed frames and other items in the direct vicinity of the patient which are often made from metal or plastic," says Professor Dr Günter Kampf of the Institute for Hygiene and Environment Medicine at University Medicine Greifswald, Germany.

Working on a book co-authored by Professor Kampf and Professor Dr Eike Steinmann, Chair of Molecular and Medical Virology at Ruhr University Bochum (RUB), the two researchers had already reviewed 22 studies on different coronaviruses and their inactivation. "In view of the current situation we considered it helpful to pre-publish all scientifically validated evidence in a single easy-to-access place," explains Professor Steinmann.
The studies on viruses such as SARS-CoV and MERS-CoV indicate that at room temperature the pathogens can persist and remain infectious on surfaces for up to nine days. On average, persistence is about four to five days. "Lower temperatures and high humidity extend persistence," Professor Kampf points out.

Tests with different kinds of disinfectants showed that products on the basis of ethanol, hydrogen peroxide or sodium hypochlorite effectively destroy coronavirus. Used in appropriate concentrations, these products reduce the number of infectious coronaviruses within one minute by 4 log10, i.e. from 1,000 000 to 100 infectious microbes. If products with other biocidal agents are being used, efficacy at least against enveloped viruses should have been validated (limited virucidal activity). "In general, this will suffice to significantly reduce infection risk," Professor Kampf underlines.

The experts expect the results of these studies on different coronaviruses to also apply to the novel SARS-CoV-2. "Different coronaviruses were studied and the results were very similar", Professor Eike Steinmann summarizes the insights.

Source: Ruhr University Bochum