Hospital architecture
Swanke Hayden Connell Architects (SHCA), an award-winning practice that specializes in workplace consulting, architecture and interior design, has eight offices in Europe, America and Russia and has designed healthcare environments throughout the UK, Europe, North America and the Middle East. Among these is the £300 million King's Mill Hospital, a PFI institution now under construction in central Nottinghamshire, England. The team is also designing a £200 million private hospital for central London. Julian Seward (above), SHCA's Principal for Healthcare, outlines the multi-faceted considerations faced by architects and hospital staff before a new, healthy hospital can exist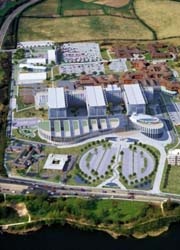 Productivity and efficiencies are measured differently. In the healthcare environment they encompass patient recovery and commercial success. What are the ingredients of efficiency?
Financial The most obvious is that of budget, in capital expenditure as well as running costs. 'What the client really wants' is a variable that, if not managed at the outset, can lead to rising costs and mis-managed expectations. The early buy-in by stakeholders, sponsor and funders is crucial.
Managing spend on aesthetics in terms of architectural form, is important when delivering hospitals. The King's Mill Hospital is an example of a balanced budget. The art works and applied colour on the building are afforded by efficiencies in cladding design and novel clinical models.
Operational Operational efficiency is a commercial need but also central to good practice in healthcare. The brief must be established with health professionals to understand patient flows and physical space requirements. Maintenance efficiencies benefit energy use and whole-life running costs.
Staff In a highly-pressured healthcare environment, good business demands attention in design in order to meet staff's specialised needs. Understanding that a hospital is also a workplace is crucial to staff retention - low retention rates lead to significant costs in terms of recruitment spend and training.
Benchmark data and occupancy studies measure improved performance, satisfaction, absenteeism, easier recruitment and improved morale. All lead to less errors, higher outputs and throughput. Priorities in the workplace are for daylight, some privacy, a degree of control or relief from noise, and access to temperature control and natural ventilation.
The Visitor Another efficiency-driving design is intuitive path finding and orientation. Ease of movement and provision of 'safe havens' outside the volume of public visitors in the hospital is crucial. Circulation can be managed by interior architecture, lighting and finishes to impart varying importance, from the 'public institutional boulevard', to the quieter departmental and more private spaces at the point of treatment. Increasingly we plan spaces to more domestic scales and specify colours, materials and finishes to hotel standards to diminish institutional connotations.
The Patient Contributing to a healing environment, that aids speed of recovery and contributes to patient welfare, is the ultimate efficiency. Design factors are sensory; colour, view, texture, smells and sounds are integrated and there is evidence that medical outcomes including recovery rates and stress levels are improved by this approach.
Space Space efficiency in design has a benefit. Increasing built area and thus construction cost for the same clinical output can break the affordability model that sustains project viability. It is the design teams' responsibility to work in the most integrated manner to balance operation, clinical pathways, interior architecture, services coordination and the architectural envelope concurrently.
At King's Mill Hospital, we innovated to find spatial efficiencies; for the in-patients adult acute wards we collocated in-patients in centralised wards to improve proximities to clinical services and facilitate future flexibility of services.
We ensured the Women & Children's Centre had a dedicated entrance and emergency drop off. In the Diagnostic & Treatment Centre, we met the Trust's concept of a one-stop-shop to be easily accessible, without patients having to penetrate the rest of the hospital.
Clinical Design – Visible Efficiency
At King's Mill, the Trust's vision was to 'contribute to the health & well being of the local community'. This has been achieved by clinical design focused on the quality of the patients and staff experience where 90% of clinical adjacencies are met. This efficiency combined with the design scheme meets the Evidence Based Design healing environment guidelines in every sense.
So, efficiency and memorable design are not mutually exclusive, but are effective partners.