News • Irregular heartbeat treatment
Holograms help physicians during cardiac procedures
Bringing a little bit of science fiction into an operating room, a team of engineers and physicians at Washington University in St. Louis has shown for the first time that using a holographic display improves physician accuracy when performing a procedure to treat irregular heartbeat.
Recommended article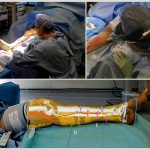 Article • A valuable tool for reconstruction
Researchers at Imperial College London (ICL) have shown how the Microsoft HoloLens headset can be used during reconstructive lower limb surgery. Surgeons at London's St Mary's Hospital are using the device, a self-contained computer headset that immerses the wearer in 'mixed reality', enabling them to interact with holograms visible through the visor.
In an ablation procedure using existing technology, known as electroanatomic mapping system (EAMS), a technician controls the catheters while the physician views the images on monitors presented in two different planes. The physician then has to mentally create the image of the heart. Jennifer Silva, also director of pediatric electrophysiology at St. Louis Children's Hospital, said that standard-of-care technology is antiquated, and the team believed it could do better.
Jon Silva and his team of engineers created software for the Microsoft HoloLens headset that converts the data from the catheters fed into the patient's heart into a geometrical holographic image that hovers over the patient. The headset, which weighs roughly a pound, allows the physician to take control of the procedure by using his or her gaze to guide the controls and to keep hands free and sterile. Their system, Enhanced Electrophysiology Visualization and Interaction System (ĒLVIS), provides a 3D digital image of the patient's electroanatomic maps that provide a picture of the inside of the heart, which they can measure and manipulate during the procedure. Jon Silva said that the technology has caught up with the application. The headset allows the user to view his or her whole environment, including the patient, unlike virtual reality, which takes a user completely out of his or her environment.
Source: Washington University in St. Louis