Hitachi Aloka hits high note with new Arietta platform
One plus one makes three for Hitachi Aloka. Two years after Hitachi Medical acquired ultrasound pioneer Aloka, the joined companies have succeeded in not only harmonised their original product offerings, but have combined capabilities to create a third brand.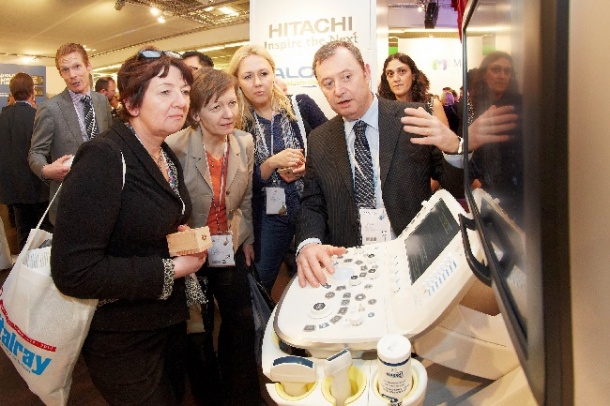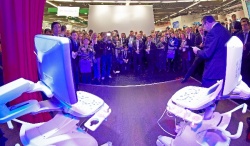 The newly designed ultrasound platform named Arietta is clearly greater than the sum of its parts, which include the legendary ease-of-use from Aloka's ProSound line as well as the break-through functionalities of Hitachi's HiVision systems.
"This is the future for the company and for ultrasound in Europe," said Hitoshi Matsuo, CEO Hitachi Medical Systems Europe, in a preview for journalists of the ahead of the product's unveiling on the company's stand.
Noting the musical theme evoked by the product name, International Product Manager Danilo Tappia, detailed what he called a masterful orchestration of product features for transducers, flexibility, resolution, power and brilliance of image display. The integration of technologies from both companies into the new Arietta 70 and Arietta 60 models is simply "symphonic, like a conductor bringing out the best," he said.
Joining Tappia in a duet for singing the praises of the new system, European Product Manager for Radiology Ultrasound, Ellison Bibby highlighted the merger of features and functionalities.
"Customers are quite fond of their Aloka ultrasound," she said, as they find the platform easy to customise for optimizing workflow and a rich range of specialised transducers. ProSound systems also provides access to raw data, greatly valued by users. All of these qualities have migrated to the new Arietta system with upgrades to usability and design.
Meanwhile, Hitachi systems are renowned for high quality images and advanced functions for elastography or fusion with other modalities. "Arietta now brings customers the best of both systems," she said. The Arietta 70 system is designed for high-end applications in secondary and tertiary care centers, as well as reference research work. The Arietta 60 system is built to serve high-throughput demands in primary and secondary facilities.
From front-end generation and emission to back-end processing of ultrasound signals, the architecture of the flagship Arietta 70 is built upon technologies pioneered by both companies.
Multi-layered crystal transducers send and receive the sonic pulses with minimal energy loss, increasing both sensitivity and image clarity. The Compound Pulse Wave generator shapes waveforms to increase the signal and enhance resolution. Proprietary technology for pixel focus provides an industry-leading delineation in the region being studied.
Hitachi's In-Plane Switching (IPS-Pro) familiar to many users with their smart phones, renders a high contrast ration and rich representation of the displayed image from any viewing angle without distortion.
Compact, highly flexible and mobile, Hitachi Aloka engineers reduced by 45% the weight of the Arietta platform. Both feature touch pad controls and keyboards that can be readily customised to adapt to individual preferences for workflow and protocols. Ergonomic features include two-way rotary encoders for reducing hand and arm movements and a generous palm rest at the center of the operating console for optimum wrist support to reduce the risk of repetitive stress injury.
"We are not stopping here, of course," said Hitachi Aloka Europe CEO Matsuo. "As a Japanese company we are proud that technology is one of our strengths, and you can be sure we are continuing to develop new technologies for this new brand."