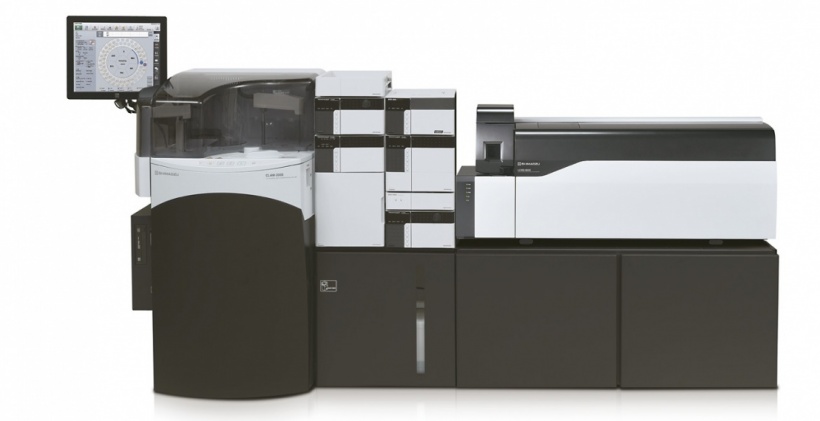 Shimadzu
Sponsored • Clinical Laboratory Auto­mation Module
Highly flexible automated sample preparation module for LC-MS / MS
While IA's (Immunoassay) has been the most used technic for clinical analysis, the shift to LC-MS / MS is constantly increasing for several type of analysis like immunosuppressant, vitamin D or steroids panel, but also for several new assays including anti-coagulants, anti­biotics, plasma renin activity, etc. The change from Immunoassay to LC-MS / MS could have been faster if sample preparation was not a limiting factor among others: it is nowadays the bottleneck in the complete process using LC-MS / MS analysis.
Thanks to Shimadzu's UFMS (Ultra-Fast Mass Spectrometry) technologies including ultra-fast polarity switching (5 ms), short pause time (1 ms), multi MRM (555 / s), and fast scanning possibilities (30,000 uma / s), combined to the well-known robustness of Shimadzu systems, LC-MS / MS has proven to be a powerful tool for clinical analysis and the cost per analysis was decreased significantly. The bottleneck of sample preparation which is often tedious, subject to risk of errors, and is also increasing the risk of contamination for people dealing with sample preparation, has been solved by the introduction of the fully automated sample preparation system CLAM-2000 (Clinical Laboratory Auto­mation Module).
Based on many years of experience from SHIMADZU in producing clinical analyzers, the system automatizes the pre-treatment of blood or other biological samples before LC-MS / MS analysis. The CLAM-2000 (RUO) is designed for customers that handle biologics samples and that are seeking to introduce the use of LC-MS / MS in their analytical workflow to contribute to sample prep automation. Its graphical user interface with a touch panel screen greatly simplifies the use of the analytical system even by non-skilled user in mass spectrometry. It is also a tool for customers dealing with issues of variability in analytical results or infection risk.
Shimadzu has released this new and unique fully automated sample preparation module (RUO), connected online to LC-MS / MS all over Europe. The system is widely opened and allows the use, either of homebrew methods or commercial reagent's kits, enabling the manual preparation steps to be adapted into the system.
The direct detection of analytes in blood, urine or any other biological samples, the measurement of trace concentration of drugs, and any other applications detection has been improved thanks to Mass Spectrometry: Using CLAM-2000 in front of your LC-MS / MS system, you will improve your sample preparation process and therefore your quality data. By simply placing blood collection tubes in the system, the CLAM-2000 performs all other processes through to LC-MS / MS analysis automatically. Unlike standard dispensing systems/robots, that are based on batch processing 96-well plates, the CLAM-2000 is completely automatic from pre-treatment to analysis and processes individual samples successively in parallel. Consequently, it results in uniform pre-treatment times between samples, without slowing processing speed, and improves data reproducibility and accuracy.
Consequently, the CLAM-2000 is the first and unique system in the world able to perform all steps fully automated from pre-treatment of the sample to LC-MS / MS analysis for a large panel of compounds, requiring only the simple task of placing the blood, or biological fluids collection tubes, reagents, internal standards and specialized pre-treatment vials in the system. It also features excellent management functions that can provide a dramatically improved workflow with better safety for clinical research and higher reproducibility.
Available pretreatment processes include:
dispensing samples
dispensing reagents
stirring
suction filtration
incubation
automatic transfer of sample vials to auto-sampler after pre-treatment
NB: all these steps can be freely selected for the process
In addition, to keep a maximum degree of flexibility and to adapt to future needs, the CLAM-2000 is compatible with the full range of Shimadzu's LC-MS / MS:
Since its launch, the CLAM-2000 has demonstrated its capabilities for various type of analysis:
LCMS-8040
LCMS-8045
LCMS-8050
LCMS-8060
Immunosuppressants
Vitamin D2 / D3
Steroids panel
Anticoagulants
Antibiotics
Antiepileptics
Neuroleptics
Benzodiazepines
Micophenolic acid
Antidepressants
Source: Shimadzu
More on the subject:
More on companies: