Highlights from the visualization specialists at Medica 2012
Last November, Barco, the medical visualization experts, showcased numerous highlights at their booth at Medica 2012.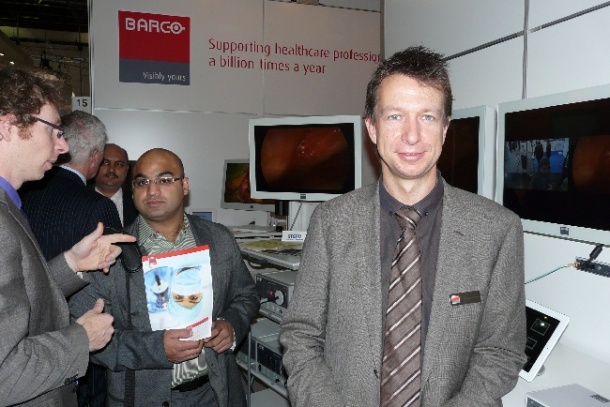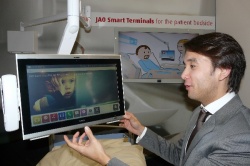 Besides state-of-the-art medical displays, Barco presented automated calibration of mobile device displays for reporting of images, sophisticated bedside terminal systems, and integrated OR video management.
Bedside terminals
Back in February 2012, Barco had acquired JAOtech, a company renowned for its hightech bedside smart terminals. "Since then, we have further elaborated our portfolio", explained Aldous Lippard at Barco's Medica booth. "These terminals include entertainment features such as TV, radio, video on demand, gaming etc. which make the patient's stay more comfortable", continued the Global Marketing Manager Point of Care, Barco. "And for hospital staff, they offer ready access to information systems including HIS and PACS."
Over the years, JAOtech had developed from a hardware manufacturer to a total solution provider. Barco, experts in medical displays, added the company's medical displays at the bedside to their portfolio. "And at Medica, we launched the latest generation of terminals – based on user surveys we have conducted: they are thinner, lighter, and support optimized touchscreen technology. Patients can enjoy the same experience at the hospital which they are used to at home."
The devices come with improved performance to ensure that clinical and entertainment applications run smoothly. The arm has a tilt feature, allowing patients to face up looking at the screen; the screen can be set to an appropriate angle for the clinician to enter data via touch technology. The terminals are fanless and easy to disinfect.
IP-based video distribution for the OR
A year after its introduction, numerous hospitals are working successfully with Nexxis. "Acceptance is high", summarized Johan Stockman; "hospitals trust that this IP-centric approach to integration and flexibility is the way to the future". Barco has set up its qualified OR integration channels for the system; at Medica, Karl Storz announced their new OR1TM Fusion Integrated OR system and this will use Nexxis as their backbone; "our partner appreciates the value and future-orientation of our technology", continued Barco's Vice President Strategic Marketing Surgical Imaging.
Flexibility is the key benefit of this system: when a hospital plans to set up a new procedure or connect another modality, Nexxis allows to do this safely and conveniently. "This helps reduce the complexity of OR integration significantly", said Johan Stockman. Once images become available, they can be shared readily inside as well as outside the IR for collaboration purposes, e.g. with students. The capability of taking images outside the OR, and to record them, was a highlight from Barco at Medica. Customers who have decided in favour of Nexxis include St Antonius in Nieuwegein / the Netherlands.

More on the subject:
More on companies: