HI VISION Preirus
Hitachi has developed a new digital ultrasound system that is fully software orientated
This newly developed digital ultrasound system is fully software orientated and features the latest broadband beamforming technology and ultra high-speed processing capability together with single crystal transducer technology. Combined with advanced ergonomic design, the system blends exceptional levels of user friendliness with superior image quality to guarantee maximum diagnostic confidence for sonographers and patients.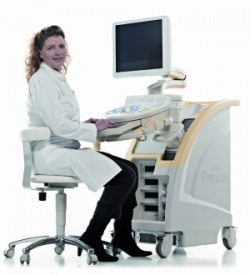 Hitachi Medical Systems presented the innovative HI VISION Preirus for the first time in Europe at the ECR (European Radiology Congress) in Vienna.
The HI VISION Preirus ultrasound platform delivers state-of-the-art image processing to enhance the performance of established image quality improvement technologies. Customised patient and examination specific scanning parameters combine with high speed image processing to deliver improved diagnostic confidence and underpin effective imaging.
A new generation of ultrasound transducers
Hitachi's 'in-house manufacture' expertise has enabled us to customise and optimize individual transducer performance for a variety of clinical applications. Our range of lightweight ergonomically designed transducers has been enthusiastically received by sonographers and clinicians. With its innovative single crystal technology, Hitachi is breaking new ground in the medical imaging market and introducing a new generation of ultrasound transducers. Precision element slicing delivers markedly improved stability and energy efficiency resulting in higher quality B-mode images and increased Doppler sensitivity for improved diagnostic confidence.
Operator friendly performance
The HI VISION Preirus platform also offers a new dimension in ergonomic design and allows precise and customised operator adjustments to facilitate examination performance. The new Patient Specific Selector (PSS) enables the operator to customise, save and later recall examination specific combinations of imaging parameters at the touch of a single button. Touch panel keys and 'Smart tab' menus incorporated into the image display monitor allow intuitive scan parameter adjustment without having to reduce concentration on the diagnostic image. A thumbnail image gallery displays current and stored images for easy comparison. Even positioning at the bedside can be optimised to make diagnosis a more comfortable experience for the sonographer and the patient thanks to the system's super slim footprint, and an operator console and large digital LCD viewing monitor which move together in a rotational arc.
Two proven technologies in one platform
HI VISION Preirus incorporates Hitachi's latest image improvement technological advances such as HI-RTE (Hitachi Real-time Tissue Elastography) – a technique with proven benefits in a variety of different clinical applications such as breast, prostate, pancreas & lymph nodes, thyroid, musculoskeletal, liver and many more; and HI RVS (Hitachi Real-time Virtual Sonography) a fusion imaging technique that allows simultaneous real-time display of a free-hand ultrasound image together with the corresponding multiplanar reconstructed (MPR) image from a CT or MR volume data set if required. Hitachi is known for its patient-centered philosophy – the HI VISION Preirus upholds this tradition and sets a new standard for the medical imaging market. Hitachi Medical Systems Europe is confident it can continue to expand its established customer base of thousands of satisfied users around the world.
About
Hitachi Medical Systems Europe Holding AG Hitachi Medical Corporation, a globally active company owned by the Japanese Hitachi Ltd. Group (NYSE: HIT / TSE: 6501) is a leading international electronics company with approximately 390,000 employees worldwide. The Hitachi Medical Corporation is represented in Europe by Hitachi Medical Systems Europe Holding AG, with headquarters in Zug, Switzerland. The company is a first choice supplier of open and powerful high-field MRI systems, multi-slice CT systems as well as medical ultrasound and optical topography devices. Ultrasound expertise encompasses clinical applications including general radiology,
internal medicine, gynaecology, cardiology, gastroenterology, urology and surgery. Hitachi
Medical Systems offers a complete range of solutions to address a wide range of medical
challenges.
For more information contact:
www.hitachi-medical-systems.com
Contact
Romea Wallnoefer
Hitachi Medical Systems Europe (Holding) AG
Sumpfstrasse 13
CH-6300 Zug
Tel. +41 41 748 63 43
Fax +41 41 748 63 32
E-Mail r.wallnoefer@hitachi-medical-systems.com