Sponsored • Orthopaedics
Hip arthroplasty for femoral neck fractures – but without the complications
Arthroplasty for femoral neck fractures has seen enormous progress in recent years, but complications due to infections are still a major problem. With good preparation and the right technique, however, orthopaedic surgeons can take away much of the horror of this scenario. At the Heraeus Symposium as part of the German Congress of Orthopaedics and Trauma Surgery (DKOU), three experts discussed the most important risk factors and how they deal with them.
Article: Wolfgang Behrends
'Hip surgery – it has to be said – is high-risk surgery,' Prof Ulrich Liener introduced his audience to the topic. Studies place the complication rate for femoral neck fracture treatments at 75%, with more than every tenth patient requiring repeated surgery.1 In this context, the Head of the Clinic for Orthopaedics, Trauma Surgery and Sports Traumatology at the Marienhospital in Stuttgart emphasised the role of infectious complications in particular: 'It's a disaster for the patients,' he put it succinctly. Higher mortality2, reduced mobility, severe pain3 – all in all, a significant reduction in the quality of life4, which also negatively affects the clinic and the surgeon.
Good preparation makes all the difference
However, careful pre-planning of any procedure can go a long way to improve the chances of success, Liener noted. For example, diabetes – a high-risk factor for the development of infections – can often be modified by adjusting the HbA1c value to >7.5% in the last 24 hours before surgery.5 Other factors include antibiotic prophylaxis6, treatment of pre-existing infections7, limiting surgery duration8, regular changing of gloves during surgery9 and well-adjusted patient blood management (PBM)10. 'These are all rather simple measures that can be implemented without great effort, but reduce the risk of infection enormously – probably even more so than by changing the actual surgical technique,' the expert emphasised.
Cement is not only an effective means of fixing the prosthesis in place, it is also a good vector to deliver antibiotics to where they are needed in a highly concentrated way

Ulrich Liener
In addition, antibiotic-loaded bone cement has been shown to be an effective tool for infection control, Liener explained. Studies have shown how patients benefit from cemented arthroplasty in femoral neck fractures; compared to cementless stem anchorage, it significantly lowers periprosthetic fracture rates, prolonging the implant's life by a factor of 3 to 411. Also, mortality over the entire period of hospitalisation decreases12, the expert pointed out. 'Cement is not only an effective means of fixing the prosthesis in place, it is also a good vector to deliver antibiotics to where they are needed in a highly concentrated way.' In particular, high-dose, double-loaded bone cement (gentamicin and clindamycin; G+C) shows longer and broader effects.13,14,15 'I have been using this cement for a long time in all my high-risk and elderly patients because it greatly reduces the infection rate.'
Strong representation of patients over 75
Following up, Prof Dieter Christian Wirtz also picked up on the importance of patient age: 'In patients over 75 years, osteoarthritis is – after high blood pressure – the second most common condition requiring treatment, even more so than diabetes or coronary heart disease,' said the expert from the Clinic and Polyclinic for Orthopaedics and Trauma Surgery at Bonn University Hospital. Accordingly, this age group accounts for a large proportion of hip replacements – about 41.6% of the more than 147,000 annual procedures are performed on patients over 75.16 This poses an additional challenge for arthroplasty: older patients frequently suffer from deficits in primary stability due to osteoporosis, cognitive and motor impairments, a higher risk of dislocation and falls, and are also more frequently affected by complications during surgery.
Cementing can noticeably reduce the revision rate for elective total hip arthroplasties, the expert clarified, referring to current figures16: 'This is mainly due to periprosthetic fractures, which has an increased occurrence rate in cementless technique procedures for patients aged 75 upwards'. Especially women with osteoporosis within this age group benefit significantly from the use of cement, Wirtz said. This also applies to patients with femoral neck fractures. Here, too, registers show a significant advantage of cemented treatment.17,18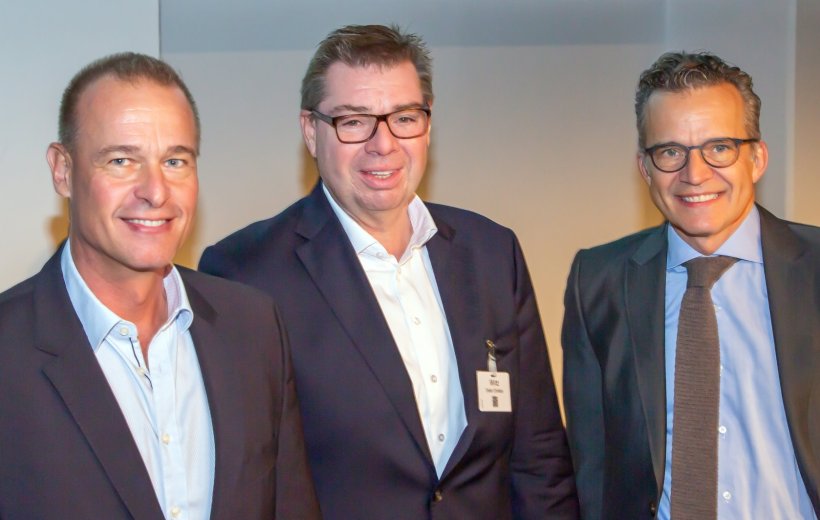 Implant surface: polished or matte?
The choice of implant surface can also prevent complications, the expert continued: so-called Exeter implants with a highly polished surface (Ra <0.1µm) do not bond with the surrounding bone cement, but jam in the surrounding mantle. This axial migration can lead to longitudinal cracks in the cement mantle. 'Especially in older patients, this significantly increases the risk of periprosthetic fractures.'19 Study results therefore argue in favour of implants with a matte surface (Ra <2.5 µm), which create a firm bond with the bone cement and thus reduce the risk of fractures.20
The export also recommended the use of dual-mobility cups – especially for older patients.21,22 This type of implant also benefits from cemented fixation,18 and Wirtz once more emphasised the advantages of antibiotic-loaded bone cement in this context: 'It may of course be a matter of cost, but the evidence clearly speaks in favour of it.' He also addressed concerns regarding antibiosis leading to increased formation of resistant pathogens. These have not been confirmed, the expert pointed out.23
The third speaker of the symposium, Univ Prof Dr Nils Hailer emphasised the special role of Germany in cemented arthroplasty. For example, PMMA – also known as Plexiglas –, which is today widely used as bone cement, was invented here, the head of the Department of Orthopaedics, Trauma and Hand Surgery at Uppsala University Hospital listed. In addition, Hamburg University Medical Center was among the first to add antibiotics to the bone cement. Given this pioneering role, the expert found it curious that the technique is hardly used in operations in Germany: 'We should cement a lot more,' was his assessment.
How to achieve a successful "whiteout"
In addition to the differentiation of the patient groups – regarding to age, gender and comorbidities – the correct cementing technique is crucial for treatment success. To illustrate, Hailer showcased the "whiteout" as a distinct quality feature: If done correctly, no transition between the cemented endoprosthesis and the cortical bone is visible on the X-ray. To achieve this, the bone is first sealed distally with an intramedullary stopper. 'Not only does this prevent the appearance of unsightly "cement sausages", but the stopper also enables thorough irrigation and retrograde filling of the medullary canal.' The subsequent pressure irrigation clears the spongious bone of fat and blood particles. 'This prevents fat embolisms and allows interdigitation of the cement into the bone24.'
Finally, the shaft is filled in a retrograde fashion with bone cement – applied distally to the stopper and then filled proximally. This technique prevents air bubbles from getting into the bone cement, which could later lead to cracks. Optimal interlocking with the bone is then ensured by proximal medullary sealing, which allows the bone cement to be further solidified with the necessary pressure. 'This is seen later on the X-ray as a whiteout.' After this, the stage is set for the insertion of the endoprosthesis – Hailer urges his colleagues to be patient during this step, because air bubbles can also form in the cement coat if the stem is inserted too quickly. The curing time of the bone cement of about twelve minutes must be observed for the repositioning, otherwise the torsion of the stem changes and can lead to instability.