Global FPD mobile C-arm X-ray to grow by 54 percent by 2016
With increasing awareness of X-ray dose and image quality, the market for mobile C-arm X-ray equipment has potential to transition to flat panel detector (FPD) technology.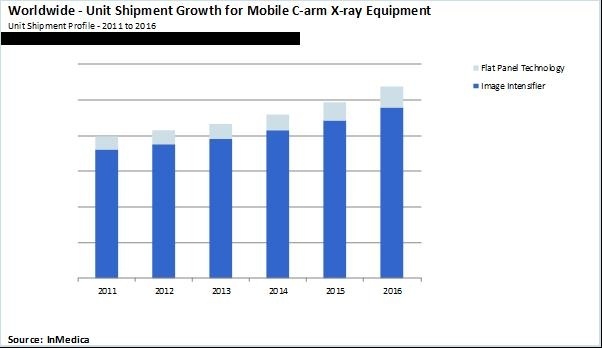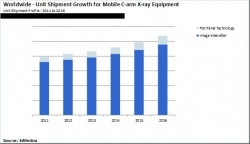 Consequently, unit shipments of FPD mobile C-arm X-ray are forecast to grow by 54 percent worldwide from 2011 to 2016, according to a new report The World Market for Mobile C-arm X-ray Equipment – 2012 Edition, by InMedica, part of IHS Inc. (NYSE: IHS).

Demand for FPD systems continues to rise, despite challenging economic conditions. With healthcare spending being cut in many countries to help reduce public debt, mobile C-arm X-ray is being used across multiple applications; such as orthopaedic, vascular, cardiac and gastrointestinal. Due to the manoeuvrability of mobile C-arm X-ray systems, many are being used in several departments as a way to save money. Some countries such as Spain and Portugal are using higher specification FPD systems to perform complex procedures, rather than installing fixed cath labs.
"FPD mobile C-arm will continue to drive growth in the global market, as improving physician workflow and image quality remains at the forefront of buyer's minds. Demand will be sustained as more complex procedures are being performed on mobile C-arm, such as transcatheter aortic-valve implantations," commented Sarah Jones, analyst at InMedica.
However, economic conditions are also a limiting factor in some regions. The higher price of FPD compared to II means many healthcare providers are still opting for II equipment, despite the known advantages of FPD. Furthermore, fewer tenders is causing suppliers to cut system prices, further sustaining demand for II. Clinically, legislation is also impacting FPD adoption. While some countries such as Germany use mobile C-arm for advanced cardiac and vascular procedures, other regions are preventing such procedures from being completed on mobile systems. This is due to concerns regarding image quality and generator over-heating.

The growth of FPD also varies significantly by geographic region. In Asia Pacific, FPD revenues are forecast to increase as hospital development and infrastructure improvement is set to continue, with a focus on higher specification technology. The American market was the largest FPD market in 2011. Out-of-hospital clinics are projected to drive growth in the orthopaedic and pain management section. In EMEA, transition to FPD will continue as many countries are changing their purchasing patterns from image intensifier to FPD.

In the next five years, InMedica predicts FPD unit shipments to increase by 54 percent from 2011 to 2016 worldwide. "Assuming price erosion continues as forecast, FPD will become more affordable, widening the availability of FPD technology to both mature and emerging markets," continued Jones. Yet, restrictions in hospital spending and the transition to fixed cath labs in some countries are forecast to limit growth of FPD in the short and mid-term outlook.