Gathering to beat pain
This March, the Complesso Monumentale Santo Spirito in Sassia, Rome, was the unique and original venue for the 6th Annual SIMPAR Meeting, which aims to spread and support a wider scientific and cultural awareness of pain. Jane MacDougall interviewed Professor Massimo Allegri, President of organising committee, about the meeting and his own pain research projects.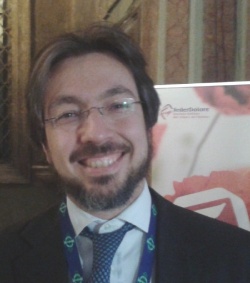 Pain is a really complex disease that involves and requires a deep knowledge of pathophysiology and pharmacology. Furthermore, working in pain management, you have the opportunity to really help people who need a holistic approach to their health. It is these reasons that have always fascinated me about this discipline,' Professor Allegri said, explaining his initial interest in its management. 'The SIMPAR Meeting (www.simpar.eu) was born as a result of an idea my Research Director, Professor C A Redi and I had, seven years ago. Within this multidisciplinary group we have created a new multimodal approach to pain from bench-to-bedside and back-to-bench in order to provide everyone involved in pain research and clinical practice with new insights. The idea was that the SIMPAR meeting would become the place where doctors and researchers could discuss together in order to facilitate a new approach to pain, one of the major social concerns in medicine today.'
'We've always tried to organise a meeting that is really innovative but also closely related to our clinical and research fields. As I'm an anaesthesiologist, treatment of acute pain is one of the most important lessons taken from my residency. Furthermore, the multidisciplinary approach to chronic pain has led us to create a large pain clinic. Apart from these clinical aspects, I think that the real benefit of the SIMPAR meeting is the involvement of basic science evaluating the newest translational aspects in order to draw a new insight into how we could approach the management of acute and chronic pain patients. SIMPAR is the first meeting in which all these researchers are together to learn from each other and facilitate our even more effective approach to patients.' To cover the multiple aspects of pain that needed discussion three separate symposia – acute pain, chronic pain and basic scientific research – were organised.
In a hospital, acute pain is generally associated with surgery. Around 30% of patients report severe pain during the first 24 hours post-operatively, which also constitutes a major risk factor for developing persistent pain after surgery. Good pain management can increase patient recovery, improve outcome and decrease in-patient times – but what is good pain management? When should analgesics be given, pre- peri- and/or post-operatively? What type of drug should be given, at what dose? Can we identify which patients will need what type of pain control before operating? Are there certain patient types that are at higher risk of suffering pain? The role of the anaesthetist as leader in the coordination of perioperative care is widely recognised but as yet not one 'best practice' has been determined. These topics were discussed, in a multidisciplinary way. Chronic pain is an enormous health problem. It occurs in the context of numerous diseases and syndromes and is, in itself, a disease process. Current European statistics estimate that a syndrome associated with chronic pain affects around 20% of adults, reducing productivity and increasing healthcare costs.
Working from the proviso that chronic pain is a disease in its own right, from mounting evidence that it is linked to functional and structural changes in the brain, its pathophysiology and management were discussed over several sessions. Pharmacological solutions in the management of non-cancer chronic pain are limited to either opioids or NSAIDs. Therefore, debate of the advantages and disadvantages of these two major pharmaceutical groups, by speakers from the USA, Christopher Gharibo, Europe, Eija Kalso and Asia, Kian Hian Tan was extremely important as a step towards new SIMPAR's 'choosing wisely' statements for the pharmacological treatment of chronic pain. The complications from long-term use of either group transcending from a medical to socio-economic problem relatively easily and opening the way for many diverse viewpoints. A similar compare and contrast session between the different continents was made discussing the use of radiofrequency (RF) treatment to destroy the pain receptors and hence reduce chronic pain. Richard Rauck (USA) advocated water-cooled RF, José de Andres (Europe) talked about pulse-doses and Dr Tan about the practice of creating continuous lesions in Asia.
The basic science sessions enabled delegates to find out if research was any nearer to providing the answers to the questions raised above. The response being yes a lot of progress is being made and no, for the moment there are no clear answers. What is apparent from GWAS studies is that there is a strong genetic component determining an individual's response to pain. Further study of these genetic differences can help define markers to identify which patients are particularly at risk of developing chronic pain and also provide new drug targets. The identification of new drug targets and the resultant development of innovative analgesic therapies will certainly fulfil an unmet need and be greeted favourably by all those involved in pain management.
Pain-OMICS
Among Professor Allegri's own projects he is coordinating Pain-OMICS, the five-year, FP-7 funded (EC contribution: €5,998,886) project (www.painomics.eu). With 11 partners from clinical, academic and industrial backgrounds, this aims to identify the genetic variants associated with chronic low back pain and also new 'omics biomarkers'. 'We hope to use our findings to elucidate why some people are more susceptible to developing chronic low back pain (CLBP) than others,' he explains. 'We will then use this information to treat CLBP more effectively, or even prevent it occurring. We have two clinical trials currently recruiting patients, one for people who have already developed CLBP and the other for people with acute low back pain who we'll follow over the course of the project to see if we can find markers that predict the course of their disease.'
Profile:
Massimo Allegri is assistant professor at the University of Pavia, in Italy. He started his career in Foundation San Mateto Hospital and is now the Head of Research in Acute and Chronic Pain of University of Pavia.