Furthering education in Europe
Training is critical to the further development of urology across Europe, yet urologists recognise there are gaps in this; so much so that the European Society of Urological Technology (ESUT) has restructured with an emphasis on training to meet the demands and challenges ahead. Mark Nicholls reports.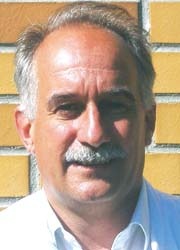 Initially founded with the aim of distributing new minimally-invasive techniques among European urologists, ESUT established live surgery sessions at the European Association of Urology (EAU) congress and other meetings to help further education.
However, as ESUT chairman Professor Jens Rassweiler (above) explained: 'We noted quite early that this alone was not enough.'
From there, ESUT began other educational activities, such as hands-on-training courses in laparoscopy, ureteroscopy and transurethral prostatectomy. Building on this, the body has identified centres of expertise for training in endo-urology. These have already hosted more than 100 trainees via the three-month training programme organised by the European Scholarship Programme (EUSP) of the EAU.
Professor Rassweiler, who is also Chairman of the Department of Urology, SKL Kliniken Heilbronn, University of Heidelberg, said that in recent years surgical training has become more of an issue. 'In the days of open surgery, the "see one, do one, teach one" technique was often applied. But particularly with the introduction of endoscopic techniques, such as laparoscopy, a proper training programme has become mandatory for the safe introduction of such methods.'
In other professions simulators have become routine, while surgical training is still performed live in the theatre. That has been a key factor in driving the scientific elements of surgical faculties, such as EAU, forward to develop adequate training curricula for respective techniques and procedures, he added. However, he believes enormous progress has been made through both low and high fidelity training systems, such as pelvi-trainers, URS-trainers or even sophisticated VR-trainers, such as the Uro-mentor, while the P.O.P.-trainer, using perfused organs for laparoscopic training, enables the simulation of vascular complications in a real-time scenario.
Yet the professor remains concerned that sub-specialisation has led to a lack of general training in urology. 'Centres specialised in robotic surgery cannot offer training in open retropubic prostatectomy any more and vice versa. This means that residents clearly have to plan their training based on their interests.' A consequence is that many established consultants are not interested in participating in training programmes to learn new techniques, he pointed out, which results in a shortage of surgical leaders capable of teaching such new procedures. This has created a 'parallel world in urology' with established surgeons defending the classical open techniques against a continuously growing body of the next generation who prefer endoscopic or robotic surgery.
'In the USA, where the reimbursement system supported the daVinci-robot, this battle has already been won by the robotic generation and has forced the establishment to train on the robot,' Prof Rassweiler said.
Within Europe, he believes the new ESUT training network will offer significant benefits to surgeons through working with all national endo-urological societies, multiplying the effect of the initiatives and allowing the co-ordination of different curricula for surgical training.
That in turn will also benefit health systems, hospitals and ultimately the patient. 'For doctors, the patient is always in the centre of our activities,' said Professor Rassweiler. 'Optimal training will allow us to distribute new approved techniques in a safer manner. Of course, every surgeon is responsible for his/her performance, but such training curricula may guarantee a more homogenous outcome. The final goal should be to minimise the often cited "factor surgeon", for the success of an operation.'