From lab to bedside
908 Devices has good reason to be based in Boston's Innovation District. A start-up founded in 2012, the company plans to disrupt the field of chemical analysis with what Vice President Chris Petty calls 'ridiculously small, and elegantly simple' mass spectrometry technology.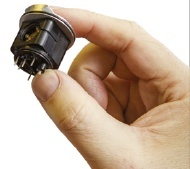 'How do you successfully bring analysis to samples rather than samples to laboratories?' he asks in a blog posted on the company website. '908 Devices is working to liberate Mass Spectrometer capabilities from centralised labs' by reducing cumbersome, complex systems to tiny, revolutionary tools.
At the heart of the rugged and portable systems are molecular traps a thousand times smaller than those in conventional mass spectrometers. Miniaturising traps that can operate closer to atmospheric pressures enables the systems to use dramatically smaller pumps, ionisers, detectors and electronics than large-scale mass spectrometers.
The results are battery-operated handheld chemical analysers reliable enough to meet clinical requirements for the detection and identification of targets, while being robust enough to be immediately available.
The key to success is determining specific uses for the technology. Where conventional, large instruments used in centralised labs today are designed to accommodate a wide variety of applications, 908 Devices is designing what the firm calls 'tools built for a specific purpose'. Because results are delivered at the point of need, outside centres where specialists generate and interpret data, the new devices must be able to provide answers to non-expert users.
'We believe passionately that people will do fantastic things when they have these capabilities right in their workspace, or are able to carry them in a pocket,' Chris Petty predicts.
908 Devices has secured exclusive license to a broad portfolio of patents that enable these simple-to-operate, ultra-compact chemical detection and analysis tools.