From experience - to experts
The Accutron HP-D - the first dual head contrast media power injector for angiography, intervention and computed tomography.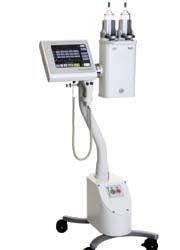 With 16 years' experience in developing contrast media power injectors, MEDTRON AG recently launched the Accutron HP-D, which, the firm reports, is the only totally wireless, high pressure dual head injector dedicated to all vascular diagnostic and interventional procedures.
This device is part of the Accutron range, developed by MEDTRON experts in parallel with the evolution of imaging modalities and the needs of users. 'Naturally able to perform single or repeated injections of contrast media at variable flow rates and flushes of saline, the new injector addresses the specific needs of the recent cross sectional imaging sequences proposed by recent angiographic imaging systems, such as DynaCT from Siemens AG, Xper CT from Philips, or others, by adapting MEDTRON's long experience of multiphase, programme controlled injection of contrast agent and physiological saline solution, acquired on its MR and dual head CT-injectors, to the high flow rates and pressure required in such explorations,' MEDTRON explains. 'The simple use of two Easy Loading Syringes (ELS), two touch-screen control panels, the freedom of movement brought by battery operation and wireless interfaces, and an exclusive high pressure valve allowing easy refill, are among the best new features to describe how ease of use has been the source of inspiration in the development of this new Accutron HP-D.

More on the subject:
More on companies: