Sponsored • Optimization for CT
An update for contrast agent injection
The Accutron CT-D Vision is the next generation of the leading contrast agent injector for computed tomography from Medtron AG. Focusing on the needs of the user, the latest development stage of the Accutron CT-D improves the usability of the CT double-piston contrast agent injector and optimizes its integration into the radiological environment.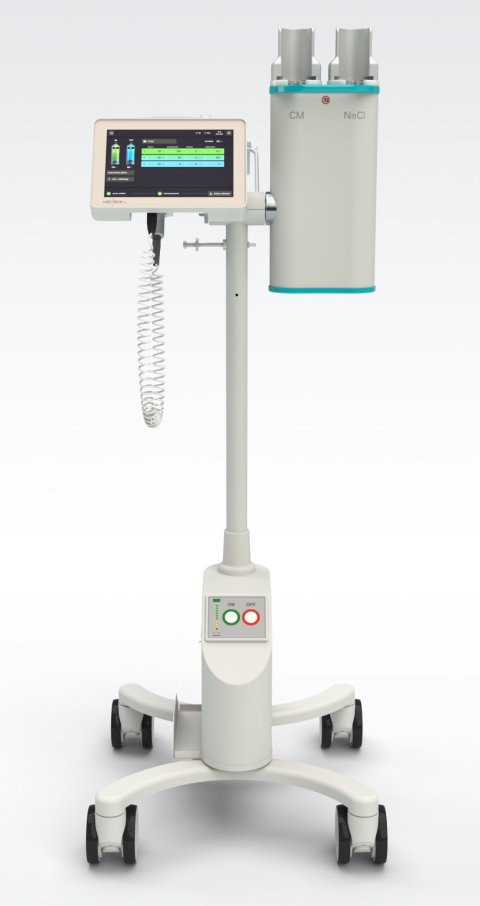 With a RIS/PACS interface based on the DICOM standard, the IDS Software Option provides direct access to the worklist from the RIS (Radiology Information System), allowing users to assign the contrast injection with the associated patient images and data and store them in the PACS (image archive). In addition, more data can now be tracked for optimal patient care with the Accutron CT-D Vision: By recording the puncture site on the patient, the size of the injection catheter, and the contrast agent type as part of the injection data, the Accutron CT-D Vision provides comprehensive traceability and documentation of contrast agent administration.
Modern user interface
The graphically redesigned user interface of the Accutron CT-D Vision supports easier use of the injector. It provides a comprehensive view of all parameters and visually highlights the most important ones. Selection from lists and a stored profile library simplify management. This makes upcoming examinations easier, clearer and more precise to program in a short time.
With high-resolution touchscreens of 10" on the injection unit and 12" on the remote control, user comfort has been improved. In addition to better readability, eye fatigue is also reduced. X-ray assistants and radiologists usually work at screens all day. With the Accutron CT-D Vision, they can choose between bright and dark light modes in the examination or control room to focus their concentration on the imaging process.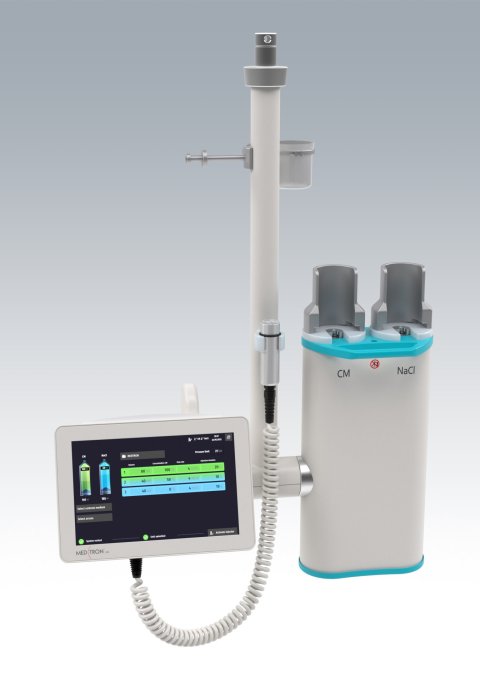 The new medical casters provide more flexibility in a radiology environment with multiple exam rooms. The new "Valia" ceiling pendant from Ondal Medical Systems GmbH also makes the ceiling-mounted version more mobile, allowing for unrestricted 360° rotation.
Approved for contrast-enhanced mammography
Medtron AG has approved its contrast injector for CT, the Accutron CT-D, as the first and so far only dual-piston injector for contrast-enhanced mammography (CEM). The use of Medtron's Accutron CT-D injector as part of the CEM imaging procedures ensures a continuous and accurate flow of contrast agent. With machine contrast injection, uniform contrast enhancement of tumor tissue is supported. The contrast bolus is accurately administered with the aid of the Accutron CT-D, which enhances the quality of the imaging. The ability to rinse with saline solution creates a compact contrast bolus.
Post-flushing further spares the patient's veins by shortening the time that the contrast agent remains in the arm veins at high concentrations, which eventually lead to irritations of the vein wall. This improves patient safety. The Accutron CT-D supports radiographers in an efficient workflow because the injection is automatic. As a result, radiographers have more time for the patient.
More on the subject:
More on companies: