First in-vitro diagnostics forum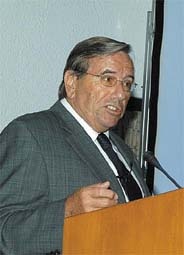 'One day, the failure to genotype before treatment may be considered unethical'

Greece - At the Central and Eastern European In Vitro Diagnostics Forum (IVD), held in June and organised by Roche Diagnostics, a division of the Swiss healthcare firm F. Hoffmann-La Roche, Michael Heuer, Head of Central and Eastern Europe, Roche Diagnostics GmbH, Germany, said: 'This is the very first international and interdisciplinary meeting of this kind - covering diagnostics and focusing on central and eastern European countries. Europe and the EU open up many opportunities - as much for business as for scientific co-operation.'

Highlighting areas of Roche's R&D, Georg Kurz, of Roche Diagnostics GmbH, Germany, described two initiatives: the development of new markers for cardiovascular diseases and oncology, and cobas, the system platform built on three clinical chemistry and two immunochemistry modules. Michael Heuer, described in his presentation the development of DNA chips that makes new paths accessible in molecular diagnostics: 'The AmpliChip CYP450 is an in vitro test based on Affymetrix's DNA chip technology (A small glass plate the size of a thumbnail on which tens of thousands of DNA fragments are arranged) combined with Roche's polymerase chain reaction (PCR). With the introduction of the AmpliChip CYP450 in December 2004, the first gene chip with CE-IVD approval for clinical routine diagnostics, the efficacy and tolerance of various pharmaceuticals will be measurable for the first time. Genetic factors are becoming the basis of future therapies, this leads to personalised medicine.'

Echoing this, Michael S Pepper, of the NetCare Molecular Medicine Institute, Unitas Hospital, Pretoria, South Africa, spoke of the potential of information from the human genome for individualizing medical treatments: 'There are important inter-individual differences in response to drugs, both with respect to efficacy and toxicity... pre-treatment assessment of polymorphisms may allow for therapy to be maximally efficacious and well tolerated'. At the end of his speech he stated: 'given the knowledge we have, and the relative ease with which this knowledge can be accessed, failure to genotype before treatment may one day be considered unethical.'

Apart from the purely scientific exchange, one objective of the conference was to help improve the quality and adherence to the European IVD Directive in laboratories. Tom·ö Zima, of the Institute of Clinical Chemistry and Laboratory Diagnostics, Charles University, in the Czech Republic, discussed the EU IVD directive and its impact on QM systems: 'Laboratory medicine, including in vitro diagnostics (IVD), is the backbone in the medical treatment, diagnostics or prevention,' he said.

'Laboratory diagnostics influences 70-80% of hospital healthcare decisions and costs between 3-5% of total healthcare costs.' According to Dr Zima, trends indicate that there are expectations for biochemistry, haematol ogy, microbiology, and immunochemistry to grow in a range of 1-5%, whereas in point of care testing (POCT), including glucometers (app. 10% growth), and in molecular biology, an annual growth of around 25% is expected.

Many of the countries involved in the Forum are either new members of the EU, or not yet members. The speakers, from eight countries, hold posts in hospitals, universities, companies, laboratories or institutions, which guaranteed very different views and interesting national perspectives on the subject.
More on the subject:
More on companies: