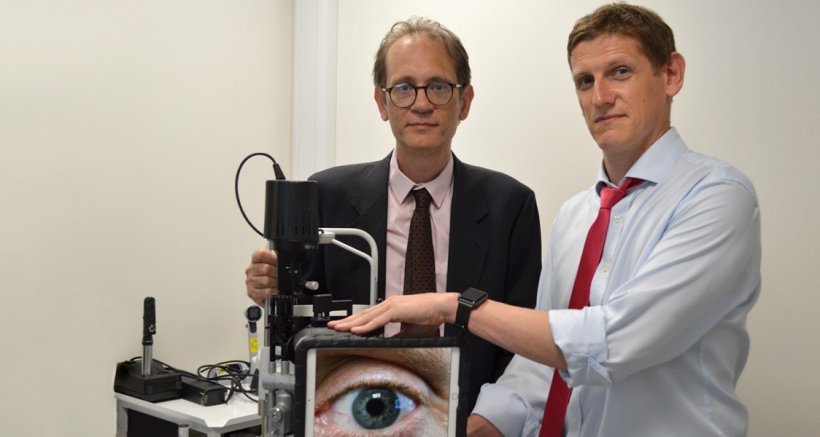 Source: University of Strathclyde
News • Tele-ophthalmology trial
Eye tele-exam via 5G smartphone stream successful
A trial tele-ophthalmology system pioneered by the University of Strathclyde and NHS Forth Valley, has paved the way for what's believed to be one of the world's first tele-examinations of an eye streamed live using a 5G smart phone.
The system uses a live video feed to securely connect doctors, opticians and patient through a mixture of 3-D printed technology developed at Strathclyde, and the Scottish Government funded Attend Anywhere Video Consultation Platform. The technology has now been harnessed to allow a live tele-examination using a 5G connected smartphone attached to a portable slit lamp, which emits an intense beam of light, to provide a live image of an eye. The examination was streamed live to NHS Forth Valley consultant ophthalmologist Iain Livingstone at a conference in Edinburgh last week, by director of digital innovation at Moorfields Eye Hospital in London, Peter Thomas, who used an image of his own eye.
The quality of telecommunications is now allowing the transmission of very detailed images, and we expect that telemedicine will soon reach the same clarity as in-person consultations

Mario Giardini
Dr Livingstone was able to carry out a virtual examination, showing a high enough quality image could be streamed in real time, opening up great potential for telemedicine in the future. NHS clinical entrepreneur Chrishan Gunasekera also assisted with the tele-examination, which used London's and Edinburgh's brand new 5G network and allowed a full consultation without the need for a clinic.
Dr Mario Giardini from University of Strathclyde's Department of Biomedical Engineering, said: "The emergence of 5G technology offers vast opportunities for medicine and healthcare. We demonstrated in this consultation how effective and valuable it can be as a tool for diagnosis and decision making. The quality of telecommunications is now allowing the transmission of very detailed images, and we expect that telemedicine will soon reach the same clarity as in-person consultations, connecting remote areas to doctors, and promoting equality in access to healthcare. These results clearly underline the importance of collaboration between technology research and development, doctors, and healthcare infrastructure."
Recommended article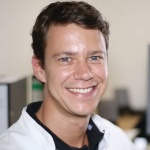 Article • Mobile data transfer
A 4G symbol next to the signal strength bar on a smartphone assures fast data transmission. 5G, the next generation of technology, is already waiting in the wings and could herald a new era for tele-surgery, PD Dr. Michael Kranzfelder is convinced. However, there are a few obstacles to overcome first.
NHS Forth Valley consultant ophthalmologist, Iain Livingstone, said: "I was excited to see the first ultra-high resolution tele-ophthalmology call via the 5G network. "Keeping pace with these technological advancements means we can send and receive remarkably high definition video referrals which are particularly useful for relaying fine detail during a remote eye examination." Peter Thomas, director of digital innovation and consultant ophthalmologist at Moorfields Eye Hospital, said: "This demonstration marked a significant turning point in tele-ophthalmology as we were able to deliver such detailed images in real time, using readily available equipment."
The Strathclyde and NHS Forth Valley emergency tele-ophthalmology network has now become standard practice within Forth Valley and is also being piloted across other Scottish health boards. Patients who may have previously needed to attend hospital can now often be examined by a distant specialist ophthalmologist at their local optometrist or accident and emergency department.
Providing detailed examinations remotely could also increase the access to specialist advice for patients in under-resourced countries, providing there is a good internet connection and some low cost equipment.
Source: University of Strathclyde