EuroPCR 2006
France - EuroPCR is a major European event for interventional cardiologists and radiologists. Focusing on existing and new technologies in percutaneous interventions (coronary, peripheral and non-coronary cardiac diseases), cardiac and vascular invasive and non-invasive imaging, this year's meeting will take place at the Palais des Congrès, Paris, from 16-19 May.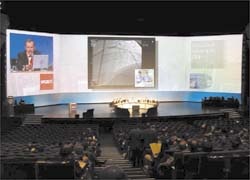 During the multiple concurrent sessions, live case transmissions demonstrating techniques will be broadcast in the main rooms. Live centres transmitting will include, for example the Clinique Pasteur, France; Erasmus University Medical Centre ThoraxCentre, The Netherlands; Cardiovascular Centre Aalst, Belgium; Leipzig University Heart Centre, Germany; Miami Cardiac and Vascular Institute, USA; Villa Maria Cecilia Hospital, Italy; Columbia University Medical Centre, USA; Washington Hospital Centre, USA; Southampton University Hospital, UK; and Her Majesty Cardiac Centre, Faculty of Medicine Siriraj Hospital, Thailand.

In 'A glimpse into the future' sessions new technologies and innovations will be presented. Other sessions are themed: 'complications'; 'a call for clinical cases' and 'nurse & technician', during which participants will present their own experiences. Case review sessions will be dedicated to the presentation and discussion of clinical cases with peers and the EuroPCR faculty.
Utilising virtual reality simulators for training session, participants will take an active part in simulated procedures, practising techniques, and focusing on technical issues.
Programme details: www.europcr.com.
EuroPCR Board of Directors Coronary: J. Marco; P. Serruys; J. Fajadet; P. de Feyter; MC. Morice; W. Wijns; B. de Bruyne; A. Vahanian; E. Eeckhout.
Peripheral: G. Biamino; M. van Sambeek; B. Katzen; A. Cremonesi; H. Sievert