EPFL Lausanne and Merck Serono announce research partnership
Merck Serono, a business division of Merck KgaA, will donate CHF 12.5 million for the endowment of three new chairs for neurodegenerative diseases, oncology and drug delivery at the Ecole Polytechnique Fédérale de Lausanne (EPFL). In addition a fund for scientific research will be established at EPFL.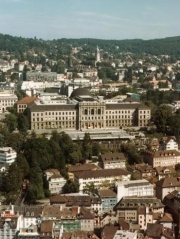 "We are very pleased to be partnering with one of the world-renowned places of scientific and technical expertise," said Elmar Schnee, President Merck Serono. The collaboration was initiated with the objective to advance basic research in oncology and neurodegenerative diseases. Moreover, the scientists will look for new ways to improve therapy outcomes by innovative delivery methods for existing and new drugs.
The appointments for the three Merck Serono-endowed chairs will be made according to the strict EPFL selection criteria. Research will focus on neurodegenerative diseases such as Alzheimer or Parkinson, cancer research in the framework of the Swiss Institute for Experimental Cancer Research (ISREC) and innovative drug delivery technologies such as nanoparticle vaccines.
Over the next five years, Merck-Serono will contribute a further CHF 3 million to a fund for scientific research which aims at promoting cooperation and development of new therapies and medical applications.
"This partnership a great win-win situation", said Professor Patrick Aebischer, President of EPF Lausanne, "it will allow EPFL researchers to participate in the development of drugs for serious human conditions such as cancer and neurodegenerative diseases."