Endoscopic Hemostat stems bleeding
Study proves Hemospray is effective and safe
A few years ago the American forces succeeded in dramatically lowering the mortality of soldiers from gunshot wounds with the help of a new, haemostatic powder. These silicate crystals, which attach to a wound, not only stem external bleeding but also internal bleeding resulting from stomach or duodenal ulcers, tumours or rare types of vascular deformities.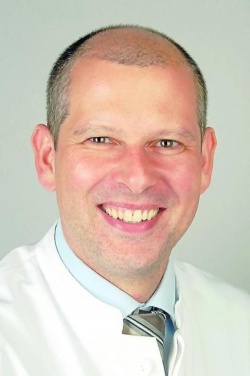 Named Hemospray, Cook Medical will introduce this new type of endo scopic haemostatic agent to Europe this year. Over the last few months this product was tested for effectiveness and safety within the context of a European and multi-centric registry, the SEAL study.
The Medical Clinic at St. Marien Hospital in Frankfurt, under Professor Ralf Kiesslich, was the first centre in Germany to use the spray, with very promising results, he emphasises. 'Hemospray is an additional option for haemostatis not previously available to us. The endoscopic haemostatis guidelines in principle recommend the combination of different procedures. First data from the study points towards Hemospray on its own being just as effective as the combined procedures,' Prof. Kiesslich explains.
Previously, the options for haemostatis in the gastrointestinal tract extended to under-injecting the specific area of the bleed with medication, mainly with diluted adrenalin solution, or to seal the bleeding vessel mechanically with titanium clips. Often, however, this is not easily possible due to the lack of an overview of the bleeding area, and some bleeds are in such anatomically awkward positions that both procedures combined can only be used with great difficulty.
Hemospray on the other hand can be applied via spray catheter and the physician does not have to target the location of the bleed precisely. 'The crystals spread very finely and quickly lead to a mechanical barrier that stops blood flowing out. Therefore, bleeding can be stemmed without contact or manipulation of the mucous membrane. In the SEAL study, Hemospray was used in three different scenarios: It was either sprayed directly onto the bleed leading to haemostatis, or used additionally where haemostasis with conventional procedures, such as under-injection and clipping, could not be achieved.
Conversely, in cases where the primary application of Hemospray did not lead to haemostasis, underinjection and/or clipping were used. The physicians in charge were free to choose the procedures as well as where and in which order they were being used. Afterwards it was observed how successful the respective procedure was.
'The study results are very satisfactory,' the gastroenterologist confirmed. 'The use of Hemospray for active bleeds did not lead to any undesired side effects and, particularly pleasing, Hemospray lead to a very high rate of haemostatis, i.e. it was successful in 90% of applications.' In particularly dangerous situations, i.e. active bleeds during endoscopy, situations that can be life-threatening for patients can, in most cases, be avoided simply through the use of the new spray.
Therefore, there is no reason to stop the introduction of Hemospray to Europe to treat active bleeds in the upper gastrointestinal tract. However, Hemospray has not yet been licensed to treat oesophageal varices bleeds. These can also be life-threatening events diagnosed with the help of endoscopy. Hemospray is not licensed for this because there is concern that the silicate crystals applied to those oesophageal varicose veins might be carried to the lungs, leading to a pulmonary embolism. 'However, some centres have actually also used Hemospray successfully in the conmanufactured text of off-label-use for this indication in patients where bleeding from oesophageal varices could not be stemmed with conventional procedures. '
These publications show that, even in this critical emergency situation for gastroenterology, bleeding could be stopped with the help of Hemospray,' Prof. Kiesslich points out.
Profile:
Leaving the Johannes Gutenberg University in Mainz in 1996, with his medical degree and doctorate, Professor Ralf Kiesslich MD took specialist training in internal medicine and gastroenterology and, in 2004, received particular acclaim for his description of endomicroscopy. He became an international expert on innovative and low-impact endoscopic procedures and has received numerous awards.
The professor wrote his habilitation in 2008 on Chromo, magnifying and confocal laser endoscopy for the early diagnosis of gastrointestinal tumours and their preliminary stages. In 2008 he was appointed Professor for Gastrointestinal Endoscopy at the University of Mainz, founded by Pentax Europe GmbH and aimed at developing new endoscopic procedures for the early detection of tumours in the gastrointestinal system. Up to November 2012 he headed the internationally renowned Department of when he was appointed senior consultant for the Medical Clinic of St. Marien Hospital in Frankfurt.
He is also a Section Editor of the publications Gastroenterology and Gastroenterologie.