Article • Goodbye to grayscale
Dual Energy CT – seeing x-rays with colors
Computed tomography (CT) is one of the most important imaging options for the diagnostics of patients. For a long time, in clinical routine CT technology mostly showed the Hounsfield Units (HU) indicated in the grayscale. However, Dual Energy CT (DECT) enables coloured X-ray images, thus significantly improving examination methods.
"We can also do material separation and get deeper insights into the structure we are examining," said Dr Daniela Pfeiffer, attending physician at the Department of Diagnostic and Interventional Radiology at the Technical University of Munich during a virtual presentation at the MedtecSummit 2020.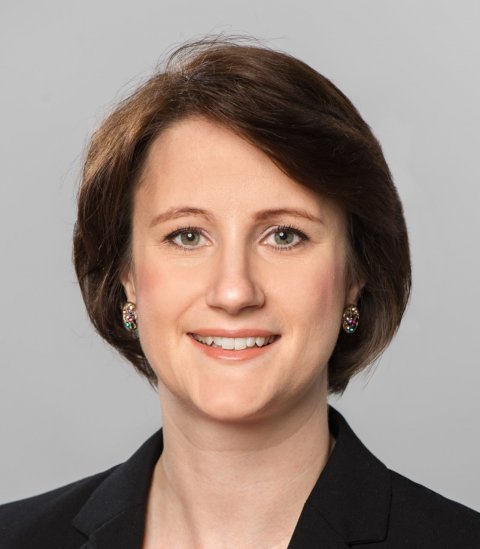 Whereas conventional single energy CT acquires images in a single broad energy band, DECT – also known as Spectral CT – separates energy into two or more narrow energy bands. The dual energy data can be used to reconstruct numerous image types. Due to the fact that different types of energies are absorbed differently by tissues, they can provide insights into the various chemical compositions of tissues. "We can calculate virtual non-contrast (VNC), iodine or z-effective [atomic number of the tissues in the body] images," Pfeiffer said.

VNC is a post-processing technique unique to DECT used to create 'non-contrast' images of contrast-enhanced scans via the subtraction of iodine. "We can calculate an image that shows us the iodine content in every pixel of the image and everything that is not iodine should more or less be removed. We can also do it vice versa. If you have a contrast-enhanced CT scan you can remove the iodine afterwards to calculate virtual non-enhanced CT images," Pfeiffer explained.

As the radiologists obtain more information about the two energies, they can also calculate images that look as if the patient had been examined with mono-energetic images, from 40 up to 200 kiloelectron volt (keV). "From this information we can build colour images, for example a z-effective image where we have the atomic number 'z'. It is colour-coded so we can differentiate between materials which have a higher or lower set," Pfeiffer said.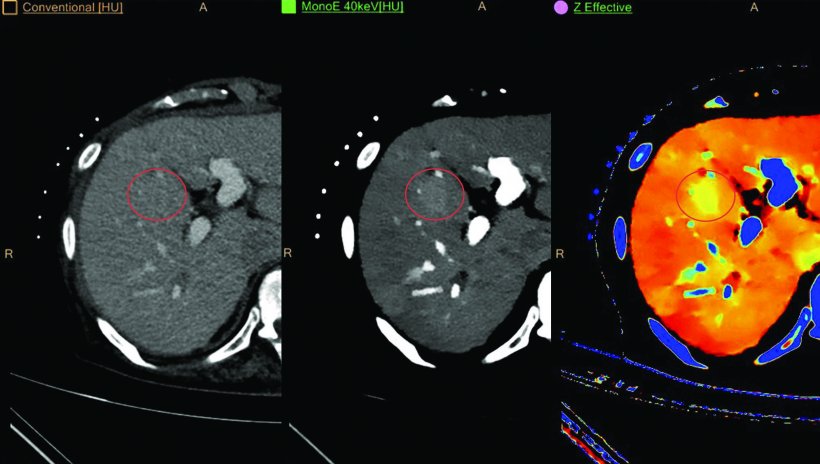 Clinical applications
DECT has sparked significant progress in numerous fields of medical imaging – for all patients, regardless of weight, age, and general health status. For example, in angiography the specific and quantitative detection of iodine contrast agent allows the complete removal of the background. This provides a much better overview of the region of interest and significantly facilitates diagnosis.

In oncological imaging, it is possible for the radiologists to differentiate between tumour and healthy tissue and thus classify the type of tumor more reliably. In addition, DECT improves tumour detection because it increases contrast, which in turn allows physicians to detect even small tumours such as small metastases in the liver. "If we combine the HUs with the iodine concentration or the z-effective, we have the dual energy information as well as our standard HUs. This will significantly improve our diagnoses and differentiation between primary lung cancer and nodules originating in a different tumour," Pfeiffer said.
Different technologies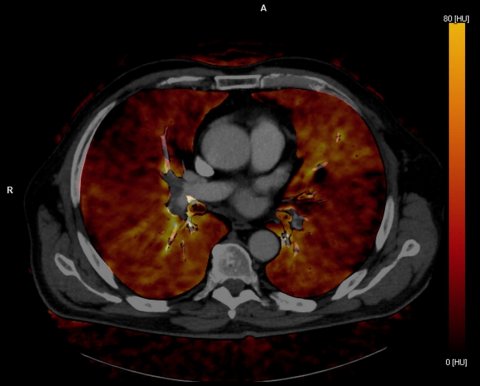 Most vendors of CT systems have recognized the importance of dual energy techniques. Siemens Healthineers built two measuring systems into the CT gantry positioned at 90 degrees from each other in order to achieve higher temporal resolutions and obtain spectral image information. GE Healthcare's Dual Peak kilovoltage switch approach consists of a single tube that rapidly switches between two different energies, 80 and 140 kVp. Philips, however, does not position spectral separation at the tube, but at the detector. The Dual Layer detector can differentiate between x-ray photons at different high and low energy levels, and therefore has the ability to detect structures based on tissue composition.

While each vendor has developed its own approach to produce dual-energy imaging datasets, the results are comparable. "In general, we get more or less the same information from all the different systems," Pfeiffer stated.

For Pfeiffer, Spectral CT has various advantages compared to conventional CT. DECT has the potential to lower the use of contrast agents and reduce the numbers of scans, for example when the contrast-phase wasn't perfect. "DECT can help us to improve our diagnoses. We can increase the diagnostic confidence because we have more information," she said.


Profile:
PD Dr Daniela Pfeiffer is an Assistant Professor of Radiology at the Department of Diagnostic and Interventional Radiology, Technical University of Munich (TUM) where she leads the X-ray and CT research group. Pfeiffer completed medical school at the University of Regensburg and received the MD for her studies on molecular effects in diabetes. She finished residency with the board certificating of Radiology at the Klinikum rechts der Isar at TUM, followed by a clinical fellowship in musculoskeletal radiology and a research fellowship at Harvard Medical School and Massachusetts General Hospital in Boston, USA.