Lab
Drawing blood from capillaries
It hasn't happened yet, but the laboratory testing industry in the United States is bracing up for a day when venous blood draws may become more of the exception than the rule.

Report: Cynthia E. Keen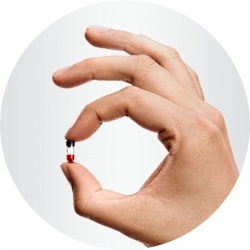 For the past two years, Theranos, a Palo Alto, California-based start up and its founder Elizabeth Holmes, the world's youngest female billionaire, have disrupted this industry with finger-prick technology and laboratory testing offered at a fraction of the price of its established competitors like Laboratory Corporation of America (LCA) and Quest Diagnostics.
Theranos has developed a novel, proprietary blood-testing platform that uses a few drops of blood obtained via finger-stick, or with very small needles. The firm posts its prices for tests online and delivers results rapidly to ordering physicians and patients themselves who have downloaded the company app. The website also offers integration with electronic health systems (EHRs) to its customers.
How Theranos' proprietary technologies work are shrouded in secrecy, although the company did receive the USA's Food and Drug Administration (FDA) clearance for a laboratory test to detect herpes simplex 1 in July 2015. However, the FDA's detailed 29-page memo does not explain how the Theranos system works. The company claims that it is working to obtain regulatory clearance for at least 120 different tests, not a standard practice in the laboratory testing industry, in an effort to the FDA to grant formal clearance to its novel methodology.
Also in July, Theranos signed strategic partnership agreements with mega-pharmacy chain Walgreens, with AmeriHealth Caritas, a national Medicaid managed care organisation, and with Capital Blue Cross, Central Pennsyl­vania's largest health insurer. All of these deals are based on the low cost and rapid turnaround of Theranos' laboratory testing services.
Tasso, a medical technology start-up company headquartered in Seattle, Washington, is developing HemoLink, a device for self-collection of blood samples. Information about the product has been explained in more detail by journalists rather than by the company itself. Neither its website nor its anonymous spokespersons – the Tasso Team – offer any information.
Journalist Patricia Kirk of Dark Daily describes HemoLink as a small device the diameter of a golf ball, which when placed against an arm or abdomen for two minutes will draw blood from capillaries into a small container.
Gizmag reports that, by using capillary action, HemoLink leverages microfluidics to create a slight vacuum that pulls blood from capillaries through tiny channels in the skin and into a small tube. The device collects 0.15 cubic centimetres of blood.
In April 2015, Tasso received a $2.6 million grant from the US Department of Defense's Defence Advanced Research Projects Agency (DARPA) to continue work to develop the device commercially. Its development partner GenTegra received $1.3 million for technology that dries blood samples so that they can be shipped and stored without refrigeration.
Currently, the companies are working together to develop an integrated device that is able to collect blood easily from patients and stabilise biomarkers at ambient temperatures without requiring cold chain transportation. Once the FDA clears these products and technologies in development, they are expected to be used by consumers in their homes, rural areas and war zones. However, when this will happen is not yet known. Media reports suggest that HemoLink will be submitted to the FDA in 2016.
When contacted, the Tasso Team stated in an email that '… it has no quoted timeline for this effort'.