News • spotlight at virtual.MEDICA
Digital health is on the rise due to COVID-19
From apps to wearables, from robotics and AI to big data, start-ups are getting in on the action in the Internet of Medical Things
MEDICA in Düsseldorf is a world-leading platform for the medical technology business and the healthcare industry and has always been one of the places to be for the entire sector as it covers current digital health trends, innovative products and services for linking all of the major stakeholders in medical care. Consequently, digital health is a mainstay of virtual.MEDICA, which, due to the pandemic, will be broadcasted online by MEDICA from 16 – 19 November. It will be in fully digital format with many exhibitors and themed highlights and will be globally accessible.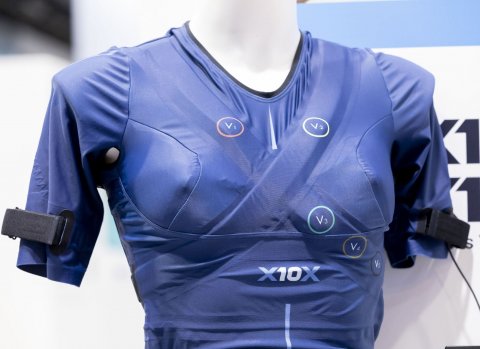 It's evident that the corona pandemic has given the digitalisation of the healthcare sector a huge boost. It's now easier for doctors to offer patients video appointments, and restriction regulations relating to case numbers and service provision have been lifted here. Providers of digital healthcare solutions reacted quickly by putting out a multitude of test offers for relevant software tools, many of which were free. Start-ups position themselves as a creative partner in developing digital solutions for the medical technology industry. Using remote health applications, big data analyses or artificial intelligence (AI) in the medical sector is considered to have high potential and all of these specialisms are under the spotlight in the virtual.MEDICA programme, for example in the English sessions in the Conference Area at the MEDICA Connected Healthcare Forum and the MEDICA Health IT Forum.
The MEDICA Connected Healthcare Forum kicks off with a bang on its launch day (16.11.) with the finale of the 12th Healthcare Innovation World Cup. The top 12 start-ups for the Internet of Medical Things will be presented here from 2 pm. PKvitality from France will be one of the participants. They have developed a watch that enables users to discreetly monitor their blood sugar levels. A trend indicator and graph displays help the wearer to improve their control of their blood sugar.
This forum offers another exciting pitch format with the 9th MEDICA Start-up Competition (17.11. from 2 pm) and healthcare innovations in health apps, diagnostics, robotics and even AI from the start-up scene. Among the numerous remarkable Competition applications, Mediquo from Spain deserves a special mention. They are presenting a professional tool for enhancing communication between doctors and patients. Another competitor, GenuSport, have gameified knee rehabilitation. These companies will be competing in the health app segment. In the diagnostics sector, Higo from Poland offers tools that can be used to examine children at home and then send the data to the doctor for a diagnosis. Artificial intelligence is being used by Evercot AI from Germany, among others, in order to capture brain changes, strokes, Alzheimer's disease, glioma and Parkinson's disease remotely. H Robotics from Korea has developed a device in the robotics segment that can be used for wrist, elbow, ankle and knee exercises to assure rehabilitation at home.
Recommended article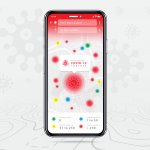 Article • Digital health approaches
While scientists recently confirmed the crucial role contact-tracing apps play in containing the COVID-19 pandemic, politicians are exploring which app architecture offers better privacy protection. However, there is no doubt that in Western countries such an entirely voluntary app can only be successful if the population at large supports it.
COVID-19 redefines Connected Health
Prof. Dirk Brockmann of the Humboldt-Universität in Berlin will appear in the "COVID19 – Redefining Connected Health" section, held from 2 pm on Wednesday 18. November within the Conference Area at virtual.MEDICA. He initiated the Corona data sharing app from the Robert Koch Institute, which is also being discussed in the virtual sessions of the MEDICA Medicine + Sports Conference 2020. Once it has been voluntarily enabled, the data sharing app collects data from wearables such as fitness bracelets and is intended to help the Robert Koch Institute estimate the spread of infection. This has enabled scientists to better assess the current epidemiological situation and use it as an early warning system. In the same session on Wednesday, solutions for measuring temperature will be presented by Dr. Holger Hendrichs from greenTEG. Core body temperature is an important vital parameter in determining a person's state of health. greenTEG offers a unique core body temperature measuring sensor for continuous non-invasive measurement. It can, for example, be used for monitoring purposes when integrated into a wearable for people who need additional care or even, with regard to COVID-19, implemented as a type of early warning system for company employees.
Clinically validated wearables can be used to capture a wide variety of cardiorespiratory signals, such as respiratory volume and frequency, blood oxygen saturation, heart rate, lung sounds and core body temperature. These wearables can thus help doctors to care for patients remotely and form diagnoses, whether it be for sleep apnoea, pulmonary hypertension or severe acute respiratory syndrome. Dave Hughes of Novosound will give a lecture on a relevant solution which involves wearable ultrasound sensors that is used in pulmonary diagnoses and recovery management.
Digital applications for all
The excitement continues right through to the closing day (19.11) with start-ups and their innovations at the MEDICA Connected Healthcare Forum. On this date, numerous developer teams will present their innovations under the MEDICA Disrupt label. In one session (held from 3:40 pm), Laszlo Bax from Braingaze will explain how digital biomarkers enable early detection of cognitive impairments. The extent to which AI is capable of detecting brain disease early will be described by Roland Amba Assam of Evercot AI.
It's becoming clearer and clearer that digital health applications open up a wide variety of options in terms of prevention, diagnosis and therapy, and are not only advantageous for the treating doctor but also benefit to patients as hand-held digital helpers. The German Federal Institute for Drugs and Medical Devices (BfArM) is also backing digital healthcare applications. With the Digital Healthcare Act (DVG) and the Digital Health Applications Ordinance (DiGAV), the legislating body has laid the foundations for making apps available to the 73 million members of the statutory health insurance bodies available quickly - and this project has also raised the hopes of many start-ups. The President of BfArM, Prof. Karl Broich, gives an overview of the current status and acceptance of medical applications and even dares to state his predictions for them from 4 pm on Wednesday 18 November. The DiGA App Store, which is already available, acts as a digital healthcare application directory. Dr. Benedikt Zacher of Munich, who co-founded this directory, will explain the significance of this special app store.
Start-ups and the backers behind them
As one of the first digital healthcare investors, Flying Health states that it invested in digital healthcare in 2012 and brought the first app on prescription onto the market in 2014. Currently, Flying Health participates in the heal capital venture capital fund. The German Association of Private Health Insurers (PKV - Verband der Privaten Krankenversicherungen) thus promotes start-ups and their innovative digital healthcare products. Lina Behrens, the Managing Director of Flying Health, will chair the "From treatment to prevention" session on Monday 16 November from 10 am at the MEDICA Health IT Forum. One of the start-ups supported here is HelloBetter. They develop and market online training courses that promote mental wellbeing. Their portfolio comprises a range of online offers to help deal with stress, depression and anxiety disorders and additional special programmes for patients who experience these symptoms in conjunction with a chronic disease such as diabetes and preventive training sessions, which are also appropriate for the corona pandemic. One specific HelloBetter course is intended to support users in reinforcing their own mental health. Dr. Hanne Horvath, a Co-Founder of HelloBetter, Dennis Hermann from Kaia Health and Benjamin Westerhoff of the Barmer health insurance group will all appear in this session held within the scope of the MEDICA Health IT Forum.
Being fasterthancorona.org is the objective of the website that Dr. med. Tobias Gantner founded and operates with a pan-European team. The founder and CEO of HealthCare Futurists GmbH, which holds its head offices in Cologne, will chair the "Sharing is caring - Data Sharing & Data Donations" session on Tuesday 17 November from 10 am. As with the data sharing app from RKI, this project also wants to collect altruistic data donations but without a direct link to wearables. Instead, they use clear medical hypotheses. "Ultimate success, for us, would be gaining more knowledge on COVID-19 due to our initiative". The potential hypotheses could be: "Are there medications that protect specific groups of people", or " Who is really at high-risk, and in what situation?". The web app creates course records for the data donators via an anonymised survey. The evidence of the data does not reach the standards set for randomised, placebo-controlled clinical studies, but the total quantity of data generated (big data) does support the notion that the data is useful for finding rudimentary patterns that indicate correlations and, in ideal scenarios, even causation. The AI implemented here is thus not used for therapeutic decisions. Instead, it is used for pattern recognition. The aim is to define computer-generated biomarkers using the evaluation of the data collected. Arthritic patients that are treated with chloroquine could be an interesting group in which to research the course of COVID-19. The data are not just analysed by the group themselves here. The information is completely anonymised and sent to other researchers, institutes and individuals upon request, after an external check of the scientific hypothesis has been carried out. "We wanted to expand the toolbox for epidemiology a bit," states Dr. Gantner.
Source: Messe Düsseldorf