News • Experts discuss
Digital health – help or hype? A bit of both, probably
ISPOR, the professional society for health economics and outcomes research, held its second plenary session, "Digital Health—Help or Hype?," this morning at ISPOR 2018 in Baltimore, MD, USA.
As digital technologies such as smart phones, social media, and wearables have increasingly become available, the potential opportunities for tracking health metrics and enhancing participation in health-related research has grown significantly. In this session, the panel explored the evidence to assess where digital technologies have improved health and where promises in digital health are mainly hype. Daniel Mullins, PhD, University of Maryland School of Pharmacy, Baltimore, MD, USA moderated the session. Speakers included Chris A. Jones, DPhil, MSc, University of Vermont Health Network, trUStr.US, Burlington, VT, USA and Arizona State University, Tempe, AZ, USA; Ejim E. Mark, MD, MPH, MBA, Access Healthcare Foundation, Rockville, MD, USA; and Nadia A. Sam-Agudu, MD, University of Maryland School of Medicine, Baltimore, MD, USA and Institute of Human Virology Nigeria, Abuja, Nigeria.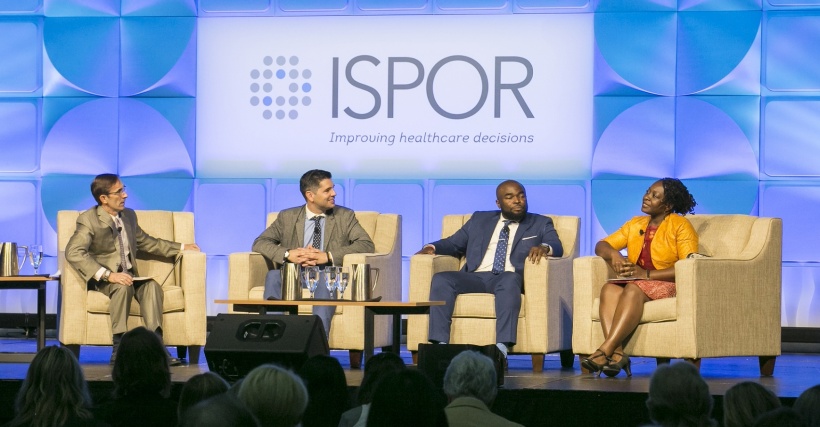 Credit: Kyle Klein Photography
The consensus of the panel was that much "hype" does surround digital health, but there is also much "help" and promise in digital technology. The rapid growth of technology has brought forth many challenges unique to digital health, including who "owns" the data, data security concerns (Article in German), and free apps that consider "you as the product."
Gaining access to data is vital for research. The panel discussed how to design effective incentives for data collection. Dr Jones stressed that incentives need to be immediate and relevant to the users. As an example, incentives paid at the end of a year are ineffective. Dr Mark noted that you have to understand your target audience to design incentives that are important for them. Dr Sam-Agudu described how she incentivized both patients and healthcare providers in Nigeria where health clinic wait times can be exceedingly long. She has offered "fast track" appointments that reduce patients' wait times and created friendly competition among clinics that have been very effective in improving access to healthcare services.
When discussing global health and equitable access to healthcare, Dr Sam-Agudu pointed out some of the digital health differences between high-income countries compared to low- to middle-income countries. She noted that while FitBits and digital watches are abundant in high-income countries, that is not the case globally. In low- to middle-income countries, however, mobile phones are ubiquitous and can be used for digital health.
In closing, panelists provided their forecasts for digital health for the year 2020. Dr Jones was optimistic, seeing better access to healthcare and an environment where each individual's digital data is secure. Dr Mark also provided an optimistic forecast noting that technology is "getting smarter" as we analyze huge data sets. Dr Sam-Agudu was cautiously optimistic, hoping to see a future where digital technology has the potential to promote global health.
Source: International Society for Pharmacoeconomics and Outcomes Research (ISPOR)