Diabetes management in the hospital
Report: Karoline Laarmann
Diabetes mellitus is a lingering disease – for a long time it causes subjectively few complaints or no complaints at all. Despite this, it is life-threatening – especially if undiagnosed, or diagnosed too late. However, although diabetes is the most widespread disease it is often only discovered by accident in a hospital, where many hospital doctors feel that diabetology is the responsibility of colleagues in the out-patient department. So what happens when an in-patient is diagnosed with a secondary diabetes diagnosis?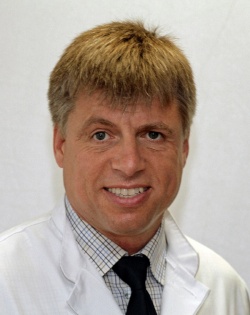 According to Dr Erhard Siegel, head of Gastroenterology, Diabetology and Metabolic Diseases at the St Vincenz Hospital, Limburg, Germany, and the first chairman of the Federal Association of Diabetologists in Hospitals, 'Diabetes mellitus as a secondary diagnosis has a significant impact on the course of other diseases, and in-patient stays are unnecessarily prolonged through insufficient treatment. Systemic infections, problems with wound healing, kidney failure necessitating dialysis or increased need for transfusions, to name but a few complications, are directly linked with inappropriately adjusted blood sugar levels in critically ill patients.'
For some time, Dr Siegel has been examining how improved diabetes management in hospital can optimise the quality of care, as well as lead to cost savings. 'The state of diabetological primary care in German hospitals is alarming,' he pointed out. 'In 2008, out of 2,087 hospitals only 250 at most have sufficient diabetes expertise.'
A study, from 2001-2002, initiated by Dr Siegel in 16 hospitals, showed that in about 12% of in-patients Diabetes mellitus was coded as the primary or secondary diagnosis in the DRG (diagnosis related groups) system. We can now consult the data analysis carried out by the InEK (Institute for the Hospital Remuneration System). In 2008, 17.2 million people received in-patient treatment in this country. In 2,100,000 patients (12%) diabetes was coded as a secondary diagnosis and in 215,208 patients (1.3%) it was coded as the primary diagnosis.
'However, these are only the patients who were diagnosed as diabetics – the real number, once the undiagnosed cases are included, is much higher,' said Dr Siegel. 'If no diabetologist is available in the hospital the blood sugar levels are often not monitored and a Diabetes mellitus diagnosis is not made. This means, for the undiagnosed or insufficiently medicated diabetic, that their mortality and morbidity risk increases significantly.'
His suspicion was confirmed by his analysis over several years (Ludwigshafen-Limburger-Diabetes Model). The systematic examination in a maximum care hospital with 45,000 cases (2001-2003) and a specialist clinic with 20,000 cases (2003 – 2005) showed a prevalence of Diabetes mellitus of around 30% and documented complications in 75% of all patients treated in the hospital. Diabetes mellitus (as a secondary diagnosis) is therefore one of the most commonly treated diseases in hospital. However, this secondary diagnosis is only made for 30% of affected patients and follow-on complications are only diagnosed in10% of patients.
The economic impact
'We can say that a hospital with 500 beds and a total of 20,000 cases a year can achieve an increase in revenue of between €150,000 and €200,000 for the correct DRG coding for diabetics. The effects of shorter in-patient stays - in the case of diabetes as a primary diagnosis, two days; for secondary diagnosis, one day – need to be added to this,' Dr Siegel said.
Diagnosing, treating and coding: these three steps lead to successful and cost efficient diabetes management. Clearly defined structures and processes that are accessible on the intranet, at all times, in the form of written treatment guidelines are a prerequisite. The implementation of these processes is safeguarded by a diabetologist, a diabetes adviser and specially trained nurses. The 24-hour presence and availability of this diabetes intervention team must be guaranteed.
Interdisciplinary discussions on peri-operative metabolism also play an important role, Dr Siegel added: 'Even among doctors, there's still a perception that diabetes is not really that bad, which is why many surgeons ignore insulination – with catastrophic consequences. It proves there is a need to set up a diabetological consultation service, and the diabetologist in charge needs to be given the cross-departmental decision-making powers on all diabetes treatment. This means e needs to be in a position, at all times, to check and adjust the blood sugar levels of all patients on all wards.'
Even at the stage where a patient is admitted to the ward there should be general screening by blood sugar testing, and these metabolic test results then transmitted from the laboratory to the ward and the diabetologist's work station. If needed, the diabetologist informs the nursing staff on the wards about all the cases identified a diabetic. The implementation of dose adjustments and treatment documentation is carried out by trained nurses, using standardised forms. 'Diabetology has developed into an interdisciplinary department required across the wards, similar to the fields of radiology and clinical chemistry. It operates almost like a service centre. This is the only way to mobilise resources, save costs and ensure revenues,' Dr Siegel concludes.