COPD: screening, comorbidity, mortality
Despite some decline in cigarette consumption during the last decades, chronic obstructive pulmonary disease (COPD) remains a major public health concern. COPD is among the top five leading causes of chronic morbidity and mortality in the US and in Europe. Nevertheless, COPD is substantially underdiagnosed.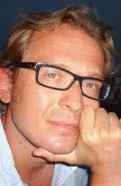 Since early cessation of smoking can prevent disease progression, and early intervention and new therapeutic strategies can improve outcomes for patients with COPD, it is important to detect COPD as soon as possible. "Today, computed tomography is the main noninvasive diagnostic tool for evaluating the lungs of patients with COPD. CT may identify and objectively quantify the extent of the two major determinants of the chronic airflow obstruction, namely emphysema and small airways disease.
Importantly, this allows information on COPDrelated changes to be obtained from CT studies performed for other reasons, such as lung cancer screening or several clinical indications," explains Dr Nicola Sverzellati, chest radiologist at the University of Parma. The automated CT analysis of emphysema and air-trapping performed in a lung cancer screening trial, the so-called NELSON project, showed a substantial proportion of participants to suffer from COPD. More specifically the authors found a combined cut-off of emphysema and air trapping that identified with a good level of accuracy the presence of COPD.
"If these results are validated and confirmed in other settings such as clinical practice, it may be reasonable to standardize CT scanning in smokers for the evaluation of COPD components, because this would improve the detection of this disease," Sverzellati points out. Thus, radiologists could be the first physicians to suggest the presence of COPD, which, however, needs to be confirmed by spirometry. Although CT cannot be considered a primary screening test, it may be useful in increasing the detection rate of COPD even when performed for other indications. Identifying COPD among smokers is crucial, because these persons are prone to developing important comorbidities such as large airways abnormalities, lung cancer, cardiovascular disease, and musculoskeletal abnormalities. COPD is strongly associated with lung cancer.
The ability to identify COPD among asymptomatic smokers may refine the screening strategies and stratify the risk of lung cancer. Expiratory CT scanning may also show the presence of tracheobronchomalacia, which is quite common in COPD. Such a comorbidity may be responsible itself for the patient's symptoms and can be treated by specific interventions. The assessment of proximal airways abnormality may also be important to identify persons who tend to develop acute exacerbations, which represent the most frequent cause of hospitalization for patients with COPD. Cardiovascular diseasem is one of the leading causes of morbidity and mortality in COPD patients and increases with the progression of COPD. Vascular abnormality is present in both systemic and pulmonary vessels in COPD. Pulmonary hypertension (PH) is a poor prognostic determinant of survival in COPD patients. There are limited CT-based investigations focusing on the identification of PH in COPD.
"I am sure that future MRI-based studies will clarify many aspects of both left-sided and right-sided cardiac disease as well as pulmonary vascular abnormalities. Improved imaging protocols are now available on every MR system for the morphologic evaluation of the lung," the radiologist says. Several investigators have demonstrated that, within the same examination, MRI can potentially provide clinically relevant information on lung function. It seems reasonable to hypothesize that the clinical use of lung MRI will further increase in the near future, improving the evaluation of the functional damage associated with COPD.
"The main goals for diagnostic imaging, in my opinion, are firstly to increase standardization of the analysis tools across manufacturers as well as their availability on the PACS system; secondly to increase detection of COPD and its comorbidity, and thirdly to phenotype COPD; that is to identify a single or combination of disease components that describe differences between individuals with COPD as they relate to clinically meaningful outcomes, such as symptoms, response to therapy, and mortality," Dr Nicola Sverzellati concludes.
For your diary
Reticular and nodular patterns
Session "Basic HRCT Course"
Nicola Sverzellati, Parma, Italy
Saturday June 23 at 11:00 - 11:30
####
Profile

Nicola Sverzellati studied medicine at the University of Bolognad received his medical degree in 2002. He subsequently obtained a PhD in "Advanced Cardio-Thoracic Imaging" at the University of Parma in 2010. He has been a researcher at the National Cancer Institute of Milan since 2007 and a lecturer and Consultant at the Academic Hospital of Parma since 2010. His particular interest is in lung cancer screening, and the imaging of diffuse lung diseases. Most recently he has been involved in phenotyping chronic obstructive pulmonary disease and refining the imaging of conditions with vascular components. He is a member of the Italian Society of Medical Radiology, and is currently Secretary General of the European Society of Thoracic Imaging.