Complete vision for interventional radiology
Taking a comprehensive approach to reducing dose, each link in the imaging chain was reengineered to deliver a superior clinical image with Ziehm Vision mobile C-arms. The importance of imaging for interventional radiologists is clear the moment you step into the operating theatre.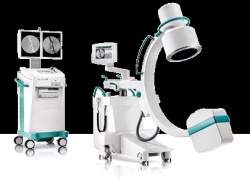 Hovering above the patient, directly in front of the surgeon, the display screen becomes critical to the procedure, a window at once presenting a precise view of disease pathology, a map for navigating anatomical landmarks and a path for arriving at the targeted site to repair or restore function.
Yet the price of a high quality intra-operative imaging is the risk of a dangerously high exposure to radiation for both the patient and surgical team. As a result surgeons must compromise image quality during the procedure to keep radiation dose to safe levels.
Thanks to innovative engineering, Ziehm Imaging has broken this traditional trade-off, delivering superior imaging quality while dramatically reducing radiation exposure. 'We actually started out to reduce dose and ended up with both: less dose and a better image,' explained Martin Herzmann who leads Global Marketing for Ziehm Imaging.
Specialised in C-arms for interventional radiology and surgeons, the company has introduced a series of enhancements across its line of Ziehm Vision systems with SmartDose, a comprehensive approach to reducing radiation exposure. SmartDose presents a rethinking of the imaging chain for the Ziehm Vision line of mobile C-arms that includes novel features, such as laser cross-hair positioning to precisely target the region of interest, organ specific protocols and automatic down-pulsing to avoid continuous fluoroscopy with a strobe effect.
The Object Detected Dose Control (ODDC) is unique to Ziehm Vision systems, software that detects motion in the target area and adjusts accordingly. Another software enhancement is Ziehm Adaptive Image Processing (ZAIP) that sharpens the image with optimal noise reduction and edge enhancement while enabling up to 20% dose reductions for flat-panel C-arms. 'When you start to speak about dose you find there are a lot of calculations out there,' Martin Herzmann explained. 'At Ziehm Imaging the dose is measured, so we prefer to speak about numbers that are measurable as dosage levels.' With a slim profile and minimal footprint the Ziehm Vision line offers maximum mobility with minimum space requirement serving as an all-around system for general surgery, orthopaedics, traumatology and vascular applications.
With more than 1,300 Ziehm Vision systems already used in operating rooms worldwide, Martin Herzmann said the new generation Vision C-arms would open a new chapter, creating new opportunities for the company. Until recently many believed that only a hybrid operating room with a fixed imaging system could accommodate interventional radiology procedures, he added. Yet the growth in minimally invasive procedures, combined with the high cost of building dedicated surgery suites has brought more and more hospitals to Ziehm Imaging with its reputation for high-performance and highly mobile C-arms. Ziehm Imaging technology is known to be robust and solid with the image quality surgeons need, motorised systems to enhance flexibility and liquid cooling to support complex procedures.
'Ultimately, healthcare professionals make their decision based on image quality and the quality of the company's image,' he pointed out. 'We are well positioned with both.'
More on the subject:
More on companies: