News • Air disinfection and purification device
Closing the infection control loop
Novaerus, an Irish company specialising in non-chemical air disinfection using patented ultra-low energy plasma, announced the launch of the Defend 1050, a portable, easy to use device ideal for rapid disinfection and purification of the air in large spaces and high-risk situations such as operating theatres, ICUs, IVF labs, emergency and waiting rooms, and construction zones.
The Defend 1050 uses ultra-low energy plasma technology – a highly effective method of rapid pathogen destruction – and a multi-stage high performance filter system from Camfil to reduce infection, adsorb odours, neutralise volatile organic compounds (VOCs), and trap particulate as small as 0.3µm.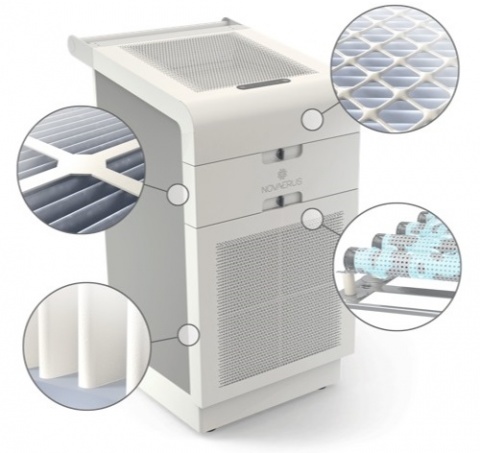 Independent tests completed to date show that the Defend 1050 reduces Influenza virus by 99.9% in 10-20 minutes (28.5m3 space), Staphylococcus epidermidis by 99.9% in 15 minutes (30m3 space) and Aspergillus niger by 99.99% in 30 minutes (15.9m3 space). Running at high speed, the unit has a VOC Clean Air Delivery Rate (CADR) of 596 m3/hr, a PM1.0 CADR of 860 m3/hr (19.7m3 space) and a PM2.5 CADR of 870 m3/hr (19.7m3 space). The device is currently being tested on Tuberculosis (Mycobacterium smegmatis), Formaldehyde, and Nitrogen Dioxide.
The Defend 1050 combines six coils of Novaerus' patented, NASA-tested, ultra-low energy plasma technology with a M5 pre-filter, a genuine H13 HEPA filter certified in accordance with EN-1822, and carbon/molecular filter from Camfil, a world leader in high quality air filtration. "We created the Defend 1050 in response to a growing demand from our customers for a mobile, rapid remediation solution for airborne pathogens and VOCs in high-risk situations," said Dr. Kevin Devlin, EVP of product at Novaerus. "As a problem solver, the Defend 1050 is the perfect complement to our filter-free units, the Protect 800 and Protect 200, which are designed to be operated continuously to maintain optimal indoor air quality."
We now know conclusively that infection can be transmitted on air currents over large distances, by direct and indirect contact or a combination of all three routes

Felipe Soberon
Since 2009, Novaerus has been researching and developing plasma technology that is unmatched in its ability to safely destroy airborne pathogens that lead to infection in populated indoor spaces. The patented technology uses short-exposure, ultra-low energy plasma that has been tested and shown by several respected laboratories – including Airmid, Aerosol, Microbac, and Ames – to deactivate pathogens on contact. "We now know conclusively that infection can be transmitted on air currents over large distances, by direct and indirect contact or a combination of all three routes." said Dr. Felipe Soberon, chief technology officer at Novaerus. "The Defend 1050 is ideal for mitigating the risk of airborne dissemination of infection and contamination of surfaces and hands by reducing the bioburden in the air."
Many air cleaning methods in use by healthcare facilities today rely on filters to capture pathogens. But without deactivating those pathogens first, the filter can become a safe haven for viable pathogens to colonise. The Novaerus plasma technology solves that problem by killing airborne pathogens before they become trapped in the filter. "Novaerus has done an incredible job of bringing together the benefits of their patented plasma technology and our high performance filters", said Paul Flanagan, general manager of Camfil Ireland, "As an emerging global leader in portable non-chemical air disinfection, Novaerus is a natural partner for us. By being embedded in Novaerus units, Camfil's filters can be deployed at the point of care, when and where they are needed most."
The Defend 1050 can be moved easily by staff and plugged into any power outlet. It has five fan speeds to accommodate different room sizes and noise level requirements. The Defend 1050 is now available for ordering in Europe and for pre-order in the USA.
Source: Novaerus