Centre Hospitalier de Rambouillet
Paris Correspondent Annick Chapoy reports on the first hospital in France to choose copper against nosocomial infections
Copper and its alloys reduce the rate of nosocomial infections in hospitals by 40%, according to an American study led by Michael Schmidt (University of South Carolina). For the first time in France, one hospital near Paris chose to bet on the antibacterial quality of copper on commonly touched items to lower risks of HAIs, which annually claim 3,500 lives in the country – comparable to the annual road toll. Additionally, a 2006 nosocomial infections study (rapport Vasselle de 2006) indicated that they cost health insurers between €2.6 and €6 billion annually.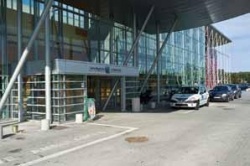 Intensive care and paediatric wards at the Centre Hospitalier de Rambouillet have been supplied with antimicrobial copper-coated door handles, trolleys, soap dispensers, light switches, bed rails, tray-tables, nurse-call buttons, and the arms of visitor's chairs. According to the US study, in more than one in three cases, nosocomial infections are caught from contact with contaminated objects or surfaces. With its capacity of eradicating 90-100% of bacteria, including those caused by MRSA and Vancomycinresistant Enterococcus (VRE), copper stands out as a first choice material to fight infection in hospitals as well as in everyday life.
Although the antimicrobial nature of copper has been recognised for millennia, it was scientific evidence that convinced Jean Pierre Richard, head of the Rambouillet, to mandate antimicrobial copper surfaces, saying he wanted to 'lead the way with the most innovative prevention policy'. For one year, the Rambouillet will monitor the impact of the copper surfaces on the infection rates in the two units involved, with the hope that results will prove as promising as those obtained in US hospitals. Mobile phones, computers, toilet seats – all sorts of everyday objects could be coated with multi-resistant bacteria. The disinfection provided by copper is continuous rather than episodic, and copper kills bacteria within two hours of exposure.