Carestream Health installs 2000th CR System
Carestream Health installed its two thousandth high-resolution CR system for mammography at the Rechts der Isar Clinic in Munich, Germany. The company's CR Mammography Feature which enables mammography images to be captured digitally while utilizing a healthcare provider's existing mammography x-ray unit and workflow processes is intended for use in the same clinical and screening applications as traditional screen-film based mammography systems.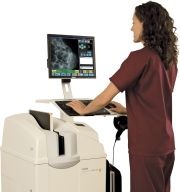 The Munich University Rechts der Isar Clinic, with its specialized team of physicians dedicated to mammography, installed a new multi-plate KODAK DIRECTVIEW CR 975 System with Mammography Feature in November. The clinic is part of the Institute for X-ray Diagnosis of the University of Munich, which performs more than 100,000 medical procedures each year and features a fully digital environment.
"We invested in the CR 975 system for mammography because it delivers excellent image quality and fits very well into our workflow," said Prof. Dr. Ernst Rummeny, Director of the Institute for X-ray Diagnosis of Munich University.
Carestream Health offers digital capture of mammography exams on its CR systems in Canada, Europe, Australia, Asia and other regions of the world where approved for use. Carestream Health has applied to the U.S. Food and Drug Administration for approval to market its CR system for mammography in the United States.
This optional mammography feature is available when purchasing a new Elite, Classic or CR 975 System from Carestream Health, or as a retrofit to installed Elite, Classic or CR 850/950/975 systems.
"The Rechts der Isar University Clinic combines the experience of practitioners with the latest CR technology to help provide the best paitent care possible," said Stephen Archer, Director of Worldwide Marketing, Mammography Solutions, for Carestream Health. "The fact that we now have now more than 2000 of these innovative digital systems installed worldwide confirms that we are providing valuable benefits that meet the specialized needs of the radiology community."
With this optional feature, Carestream Health's CR systems can be used for both general radiography and mammography exams. In addition, the optional KODAK DIRECTVIEW CR Mammography Total Quality Tool is available to streamline objective mammography image testing and QC measurements.
More on the subject:
More on companies: