Cardiovascular research
Dr Eduardo de la Sota reports on atherothrombosis and imaging at Spain's National Institute for Cardiovascular Research
As Professor Valentin Fuster pointed out this year, the Centro Nacional de Investigaciones Cardiovasculares (CNIC) is now a splendid reality thanks to the support of the Ministerio de Ciencia y Tecnología and the Instituto de Salud Carlos III institutions on which, now and for the future, it depends. Along with that public sector backing, CNIC will also receive civil support from the ProCNIC Foundation, which is comprised of leading private companies in Spain.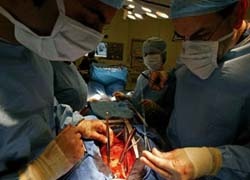 For CNIC these resources assure the reinforcement that Spanish science needs: with their support the institute will be able to tackle ambitious research projects, and with close National Health Service collaboration, these should result in CNIC becoming an international reference centre for cardiovascular research as well as legitimise the centre within society.
According to Prof. Fuster, research is now a synonym of well-being and progress for any developed country – and even more so in the case of biomedical research where knowledge gained is translated into an immediate, substantial improvement in its people's health and quality of life. In this respect, the CNIC has the major challenge of establishing a new two-way translational research model, which enables both the application of basic knowledge to the diagnosis, treatment, prognosis or prevention of cardiovascular diseases and which contributes to answering the scientific questions arising in daily clinical practice at the patient's bedside.
Update: Advances in atherothrombosis
In 2009, J Sanz, PR Moreno and V Fuster pointed out that the study of atherothrombosis is a rapidly evolving field, and there has been significant progress in recent years in various aspects of the disease. In diagnostic imaging, MRI and multidetector CT have been actively used to evaluate the characteristics of the arterial wall, including calcified and non-calcified lesions, and both in coronary and extra-coronary vascular areas. There has also been extensive research into the application of imaging modalities to visualise cellular or molecular disease processes, i.e. molecular imaging. Considerable efforts were devoted to the identification of novel biomarkers that reflect different components of atherothrombosis, namely inflammation, thrombogenicity, oxidative stress and reparative ability, predicting the presence of early disease or the risk of clinical events. In the therapeutic arena, substantial evidence has accumulated on the beneficial effects of several pharmacologic agents, most significantly, statins. Finally, important advances were also made in the understanding of the roles of immunity and neovascularisation in atherogenesis, including the development and progression of disease at different stages. Awareness of these recent advances and new lines of active research is fundamental for health professionals involved in the care of patients with atherothrombosis.
Research at the CNIC Atherothrombosis and Cardiovascular Imaging Department
Despite constant advances in our understanding of the intimate mechanisms that produce atherothrombosis they have not reduced the incidence of cardiovascular disease significantly among the population. One objective of the department is to convert findings from atherothrombosis investigation into significant beneficial consequences on public health. Early detection of patients at risk of severe cardiovascular events is a preferential line of research for the department.
Imaging diagnostic techniques will play an essential role in cardiovascular research as they are now highly developed. Not only do they enable numerous cardiovascular diseases to be detected, but they also enable tissue characterisation and even the determination of molecular composition, or the presence of specific cell groups.
The CNIC will have the latest multimode cardiovascular imaging techniques, providing an exceptional opportunity to focus on preclinical and clinical research using multimode imaging. Pioneering research: The department's organisational structure promotes interaction between basic, pre-clinical and clinical research. International training in advanced imaging: An agreement between the department and Mount Sinai School of Medicine, to create a mixed unit for research and training into advanced imaging technology, will enable Spanish investigators and physicians to receive state-of-the-art training in these technologies in New York.
Atherosclerosis neovascularisation and imaging
Interestingly, Purushothaman et al (2009), at the Zena and Michael A. Wiener Cardiovascular Institute (New York), conclude that neovascularisation in atherosclerotic plaques is particularly prominent in complicated lesions, and has been recently identified as a marker of plaque vulnerability. This observation has led to a growing interest in the development of imaging techniques with the ability to visualise and quantify the extent of plaque neovascularisation. Such a feature may play an important role in identifying those lesions that are more prone to destabilisation and rupture, and in the guidance and monitoring of therapeutic interventions. Several modalities have emerged as potential candidates for imaging neovessels in atherosclerotic lesions, which include MRI, X-ray CT, PET, single photon emission CT, ultrasound, or near-infrared optical imaging. These techniques differ in their achievable spatial and temporal resolution, availability, cost, reproducibility, degree of intrusiveness, capability to image atherosclerotic plaques in various vascular territories and ability to discern different plaque components, specifically the presence of neovessels. Molecular imaging, a rapidly evolving multidisciplinary field devoted to the visualisation of specific physiopathologic processes at the cellular or molecular level, appears particularly well suited for this purpose due to its ability to target and visualise individual molecules specific to neo-angiogenesis.
Genesis and dynamics of atherosclerotic lesions: implications for early detection
Badimon et al (Mount Sinai School of Medicine, NY, 2009), have worked on early detection of atherosclerosis. They understand this to be a diffuse pathological process characterised by the deposition of lipid and other blood-borne material within the arterial wall of almost all vascular territories. Cholesterol accumulation plays a central role in atherogenesis. It is the result of an imbalance between cholesterol influx and efflux. The disease progresses silently with focal clinical manifestation due to plaque rupture with superimposed thrombus: atherothrombosis. It has been shown that the atherosclerotic plaque composition, rather than the degree of arterial stenosis, can be the determinant of rupture. This has led to the search for new imaging techniques that can provide information about plaque composition. Ultrasound measurements of carotid and aortic wall thickness are an accurate 'non-invasive' technique that permits correlation with clinical events. MRI can evaluate in detail the arterial anatomy of almost all vascular territories. Multidetector CT recently emerged for measuring luminal stenosis, coronary calcium, and even the extent of non-calcified coronary plaque volume. Badimon et al, conclude that the next advance will be molecular imaging based on the knowledge of molecular mechanisms involved in the genesis and progression of atherosclerotic lesions and the contrast agent able to identify different molecules and/or cells in the target zone.
The vulnerable patient: Refocusing on plaque?
Meanwhile, in Maastricht, Eijgelaar et al have focused attention on vulnerability. The term 'vulnerable plaque' refers to lesions that are prone to rupture and may cause life-threatening events, such as acute coronary syndrome or stroke. A study of the vulnerable plaque phenotype and its detection has attracted increasing interest over the past decades, and there have been some remarkable transitions in the paradigm on methods to identify patients at risk or patients to treat.
Whereas formerly, the key factors used to determine an individual's risk were primarily population-based traditional risk factors, such as age, sex, body mass index, hypertension etc., new approaches are based on conditional risk factors that represent an individual's current risk of suffering a cardiovascular event. These population based risk factors fall short in predicting near-future events in a high-risk individual. In the early 2000s, the focus of research into surrogate markers for cardiovascular event prediction shifted from the vulnerable plaque to the identification of the vulnerable patient. This new paradigm stimulated a number of new initiatives that aimed to identify vulnerable patients by testing systemic biomarkers that could identify patients at high risk for cardiovascular events. A second research paradigm is refocusing on the plaque by searching for plaque-derived biomarkers and non-invasive imaging modalities to assess characteristics of a plaque that determine its vulnerability. Although both concepts are attractive, they still need proper validation in large multicenter cohorts, while cost-effectiveness arguments also need to be assessed.
Inflammation and atherothrombosis
In Spain again, Ortiz Arduán et al, with the Fundación Jiménez Díaz, Madrid, are researching inflammation and atherothrombosis. According to their publications, atherosclerosis, an inflammatory disease, develops prematurely in CKD (Strength of Recommendation B). The performance of tests to diagnose subclinical atherosclerosis and systemic inflammation should therefore be considered in these patients.
Patients with CKD are at high risk of vascular disease, implying the need for goal-based treatment of the vascular risk factors. In this context, imaging tests for the diagnosis of subclinical atherosclerosis can be considered with the goal of individualising treatment decisions on the management of cardiovascular risk factors when the patient is no longer receiving treatment consistent with the maximum risk level (Strength of Recommendation C).
The presence of subclinical atherosclerosis would raise cardiovascular risk to the maximum level (Strength of Recommendation C).
Carotid artery ultrasound with determination of carotid intima-media thickness (CIMT) and the presence of atheromatous plaques would be the technique of choice to assess subclinical atherosclerosis in ACKD (Strength of Recommendation C).
C-reactive protein, measured by high-sensitivity assay (hs-CRP), is the only marker of inflammation used routinely in clinical practice. However, there is no evidence that routine determination of hs-CRP improves the outcomes of therapeutic decisions on cardiovascular protection in either the general population or ACKD population. Therefore, routine CRP determination cannot be recommended in patients with CKD to stratify their cardiovascular risk (Strength of Recommendation C).