Cardiovascular medical technology
Berlin's Biotronik celebrates 50th anniversary of quality and innovation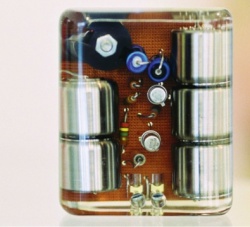 A little over five years ago, when Frank Busch began to work for leading cardiovascular technology manufacturer Biotronik, he noticed certain changes in the way the company carried out its business. 'Instead of being cost-driven, suddenly I was working in an environment that was people-driven, with a focus on developing new, cutting edge technologies of the highest quality. Before, business was just about downsizing.
Now, with Biotronik, it's all about growth.' As manufacturing director Frank Busch can certainly speak from experience. The office where he sits is only temporary, built until a more permanent one can be constructed. In other words, the firm is expanding faster than it can find space. 'Good news for a company that can look back proudly on 50 years of excellence, quality, and innovation since 1963,' Biotronik points out.
Back then, physicist Max Schaldach and electrical engineer Otto Franke started a biomedical engineering revolution when they developed Germany's first implantable pacemaker. Today, Biotronik specialises in three business areas: cardiac rhythm management, electrophysiology and vascular intervention, with a focus on in-house research and development. Continuous innovation keeps the firm at the forefront of patient care, says Frank Busch: 'We make sure that people still understand the company's ethos, because everyone needs to know what it means in his or her daily work to be consistently living up to the highest quality standards.'
In the last decade the firm has implemented a number of technological solutions to ease physician-patient interaction and ongoing care. For example its ProMRI technology has been used in cardiac devices and leads since 2010, en­­abling patients with a cardiac implant to safely undergo MR scans. Indeed, it is the world's only company which allows ICD, IPG and heart failure patients access to those scans.
In 50 years, Biotronik has been able to grow tremendously while remaining true to its early pioneering spirit, the company points out. 'Today, it is represented in more than 100 countries worldwide, and has 5,600 employees.
Importantly, the focus is on patients, as Frank Busch explains: 'I like keeping up the awareness in everybody's mind that they are working on implants for actual people…and one of those people could be their grandmother.'