Be prepared for the pandemic flu
The next pandemia will come - rather sooner than later. The respiratory protection of frontline staff is a major part of healthcare facilities' preparation. To assist hospitals, ECRI Institute and the International Association of Healthcare Safety and Security present the web conference "Respiratory Protection: Preparing for Pandemic Flu" on July 17, 2008.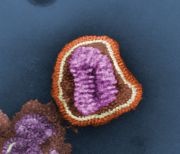 This web conference will help facilities understand risk reduction plans, a practical implementation approach, and how to select optimal respiratory protection through proactive assessment strategies.

Expert speakers will help participants learn about
Regulatory requirements and OSHA guidance regarding exposure assessment;
Risk reduction strategies to reduce the probability of infection for staff assigned to care for influenza-infected patients;
Differences and similarities between types of respiratory protection, as well as how to determine the cost of a well-prepared program; and
Practical steps to plan for pandemic flu and provide optimal staff protection
Speakers include:
Luke A. Petosa, M.Sc, HEM, HEM-CC, Director, Center for Education and Training, ECRI Institute
Jennifer L. Noppenberger, R.N., B.S., CIC, Clinical Analyst, Vecna Technologies
John A. Schaefer MFS, CIH, HEM CPEA, Associate Director of Health Safety and Environment, Johns Hopkins University Hospital and Health System
To learn more or to register for this Web conference, visit http://www.ecri.org/webconference or contact ECRI Institute by telephone at (610) 825-6000, ext. 5889; by e-mail at circulation2@ecri.org; by fax at (610) 834-0240; or by mail at 5200 Butler Pike, Plymouth Meeting, PA 19462-1298, USA.

ECRI Institute (formerly ECRI), a nonprofit organization, dedicates itself to bringing the discipline of applied scientific research to healthcare to uncover the best approaches to improving patient care. As pioneers in this science for 40 years, ECRI Institute marries experience and independence with the objectivity of evidence-based research. ECRI Institute is designated a Collaborating Center of the World Health Organization and an Evidence-based Practice Center by the U.S. Agency for Healthcare Research and Quality. For more information, please visit http://www.ecri.org.

IAHSS is the only organization solely dedicated to professionals involved in managing and directing security and safety programs in healthcare institutions. Its 1,600 members have joined together to develop educational and credentialing programs and create a body of knowledge that meets the needs of today's fast-paced and ever-changing environment. For more information, please visit http://www.iahss.org.
Photo: CDC/ Dr. Erskine. L. Palmer; Dr. M. L. Martin