Applied Biosystems introduces two new genetic analyzers
Applied Biosystems, a division of Life Technologies Corporation, has announced the expansion of its industry-leading portfolio of capillary electrophoresis sequencing systems with the introduction of two new lines of genetic analyzers.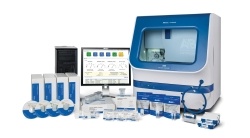 The 3500 Series, for research use only, will be available worldwide, while the 3500 Dx Series is intended for clinical use, and will initially be launched in specific countries within the European Union. Both platforms will provide state-of-the-art advancements in CE sequencing systems, setting significant new standards for throughput, data quality and ease of use.
Currently, researchers use DNA sequencing as a method for identifying genetic variation. Scientists participating in an early evaluation of the technology are interested in studying the most widely recognised human genetic disorders, such as those caused by extra or missing chromosomes, as well as a broad spectrum of other disorders. Some of these data were presented at the European Society of Human Genetics meeting in Vienna, Austria.
3500 Dx Series Genetic Analyzers
The 3500 Dx Series Genetic Analyzers are intended for use by trained operators in the analysis of human DNA or RNA, for the detection of genetic changes that may lead to disease presence or
susceptibility. This system will be distributed and used in specific European countries only, including France, Germany, Italy, the Netherlands, Spain, Sweden, and the United Kingdom. It represents the first CE system and accessories to comply with the European Union In Vitro Diagnostic Medical Devices Directive 98/79/EC. Commercial launch of the 3500 Dx Series Systems is anticipated in August 2009.
3500 Series Genetic Analyzers (For Research Use Only)
The 3500 Series enables researchers to run up to 1,100 sequencing or 1,200 genotyping samples per day. It features novel consumable designs, incorporating the ability to track key information with radio frequency identification (RFID) tags, new optical and thermal systems designs, and redesigned data collection and analysis software, which enables easy generation of cost-effective analyses and high-quality data. The 3500 Series Systems are for research use only, and are anticipated to be commercially available in August 2009.