An intuitive generation of volumetric
Volumat MC Agilia is the advanced volumetric infusion pump in the Agilia Range, the new family of intuitive infusion devices developed by Fresenius Kabi, based in Brézins, France.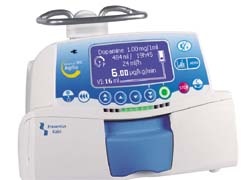 Volumat MC Agilia offers a wide range of flow rates (from 0.1 to 1500 ml/h) as well as programming modes that suit all infusion protocols, from the simplest to most advanced. The pump can be programmed in dose rate with direct translation into flow rate in ml/h.
The volumetric infusion pump can be used as a stand alone device or stacked together with other Agilia devices.
Associated with Vigilant, the IV Medication Safety Solution, Volumat MC Agilia is a smart pump with integrated dose-error reduction software (DERS).
A full range of administration sets matches all clinical practices. All Volumat Lines are DEHP and latex free. The SafeClip on the Volumat Lines automatically clamps the line to avoid any risk of free-flow when the door is opened.