Interview • Congenital heart defects
All unborn babies need foetal echocardiography
Acknowledging the need for faster ultrasound automation, Dr Alexander Weichert explained how automated procedures can assist in the early detection of cardiovascular disease and prenatal dia­gnostic testing, and why a detailed prenatal diagnosis can reduce mortality and morbidity.
'Congenital heart defects are among the most common congenital defects, so they are of great importance in prenatal diagnostics,' Alexander Weichert pointed out. 'Unfortunately, they are often still not diagnosed. 'Under optimum conditions they can be diagnosed from the first trimester scan, i.e. between the 12th and 14th week of pregnancy. Most heart defects are diagnosed at the mid-pregnancy scan, i.e. between the 20th and 22nd week of pregnancy - but still not often enough.
Only a minority of heart defects is diagnosed prenatally because not all pregnant women are systematically scanned by an echocardiographer. Only when risk factors, such as multiple pregnancy, growth delays, or other suspicious factors come into play these cases are referred to specialists. Specialist diagnosis or screening for cardiovascular patho­logy is therefore rarely carried out. This can be fatal because, unlike CT or MRI, ultrasound is a procedure that very much depends on the skills of the user. The ability to dia­gnose congenital heart defects takes years of practice. There are obviously guidelines for the visualisation of certain examination planes, but this in turn also requires intensive experience with ultrasound procedures. This is common in many countries.'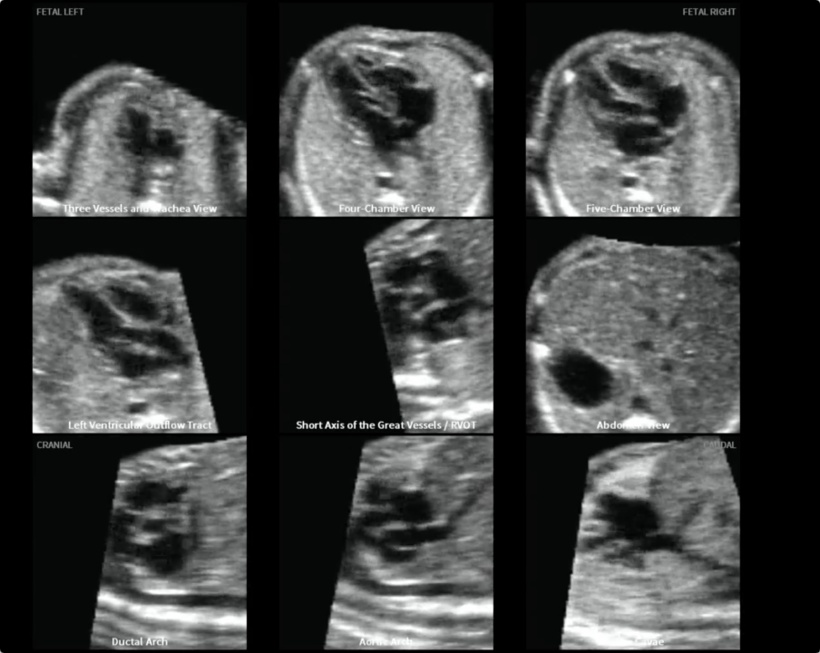 Prenatal intervention
'Some heart defects can already be treated prenatally. This includes aortic stenosis, which can be treated via cardiac catheterisation. Early diagnosis in itself – even without immediate treatment – has further, fundamental benefits, as confirmed by numerous studies: If congenital heart defects are diagnosed in time, this results not only in lower mortality and morbidity but also in less time spent on intensive care wards and improved surgery results. Early diagnosis facilitates optimum preparation, as congenital heart disease may require fast action after birth, especially for defects affecting the ductus arteriosus.
Before birth, there are connections in the atrial septum (foramen ovale) and between the large blood vessels (ductus arteriosus), which form a parallel connection of the pulmonary and systemic circulation. Heart defects where the blood cannot flow directly to the lungs or the body, due to an obstruction, but with a detour via the ductus arteriosus, are known as patent ductus arteriosus.
Before birth this is unproblematic because there is a connection between the two circulations. After birth, however, this connection, which is vital for children with patent ductus arteriosus, closes, leading to a life-threatening lack of oxygen and a race against time. If the heart defect is known in advance, the ductus arteriosus can be kept open through the administration of Prostaglandin E1. The medication keeps the parallel connection intact and buys the paediatric cardiologist or heart surgeon time for detailed surgical planning. A situation that may become life threatening can be significantly eased through early diagnosis.'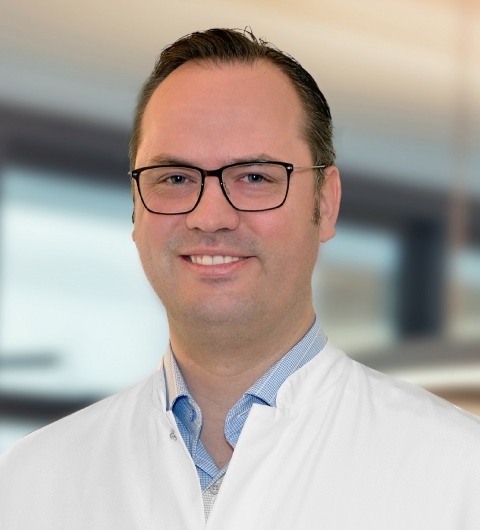 Which ultrasound procedures do you use for diagnoses?
Weichert: 'In the first instance, the common B-mode image and the "simple", two-dimensional ultrasound, then also colour or pulsed Doppler ultrasound. Further methods are not needed for precise diagnosis. However, for teaching and documentation, 3-D or 4-D technologies are of advantage. When it comes to patient contact, 3-D representation helps with our main objective, i.e. to build trust and to still expectant mothers' fears. 3-D- and 4-D methods are also important for cooperation with the paediatric cardiologist, as the prenatal examination planes do not correspond with those important for postnatal examinations. 3-D or 4-D diagnostic results can simplify the dialogue with the cardiologist and bridge the gap between diagnosis and therapy.
Automated procedures to improve ultrasound use
'There is currently a heated discussion around this under the key words "operator support". There are different approaches to automation, one of the most prominent being so-called foetal intelligent navigation echocardiography, or FINE technology. The procedure entails using a cardiac volume data set where seven central points are marked. The system then automatically generates nine scanning planes for diagnosis. This technology was published in 2013 under the direction of Dr Roberto Romero and Dr Lami Yeo from Detroit. The algorithm has the potential to improve the use of ultrasound – but only if the quality of the data set used to generate the scanning planes is sufficient.
Therefore, I am advocating the development of technology that facilitates automatic quality controls, and which gives automatic feedback, whether certain requirements are being met even during the scan. Another desirable feature would be a type of autofocus that automatically centres and sharpens an image, just like a camera – but this is still pie in the sky. Until then, it will remain our heartfelt wish that all unborn babies will be given a routine foetal echocardiography as a preventive measure.'
Profile:
Senior Consultant Obstetrician and Gynaecologist at the Charité University Hospital in Berlin, Alexander Weichert MD heads the Maternal-Foetal Medical Unit. His magna cum laude doctorate was gained at the Charité and he is a DEGUM level II certified sonographer. His specialties include prenatal diagnostics and therapy, special obstetrics, premature delivery and perinatal medicine. He is also a member of the German Societies of Ultrasound in Medicine (DEGUM), Perinatal Medicine (DGPM), Gynaecology and Obstetrics (DGGG), the Empress Auguste Victoria Society for preventive paediatrics (KAV) as well as the International Society of Ultrasound in Obstetrics and Gynaecology (ISUOG).