All in one and on the wall
Recognised globally for its hand-held instruments, Welch Allyn launched the Connex Electronic Vital Signs Documentation System and portable vital signs monitor at Medica last year. This year the firm is showing its Connex Integrated Wall System, an advanced vitals management and physical assessment solution combining all necessary examination tools in one neat, accessible wall unit. Using it, clinicians can take and electronically capture a patient's vital signs and perform basic diagnostic examinations.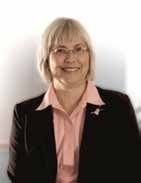 'We've created a version of our wall system that uses the Connex Electronic Vitals Documentation System,' explained CEO Dr Julie Shimer . 'It has the same computer engine as our portable monitors but is now installed on the wall together with the other physical assessment instruments.' These include an integrated otoscope and ophthalmoscope; adult, paediatric, and neonatal blood pressure modes; a choice of Masimo or Nellcor pulse oximetry; Integrated thermometry and probe cover holder; large, easy-to-read colour touchscreen and a wall mounted cord/cuff management system. 'The physician can re-use the platform when new parameters, new functions or new applications are added – so they purchase a piece of equipment that will be future proof. It's a fixed system installed at the bedside and, in future years, you'll see two additional versions of the same system, one a desk unit, the other a small wireless hand-held to communicate with a PC. This is a milestone on our product road map and we're always happy to showcase our newest offerings each year at Medica. 'It's the first time we've put the Connex Electronic Vitals Documentation System on the wall. The hospital invests in this and can upgrade later on,' she said, adding that potential expansion has
already proved successful. 'We are working on enhancing workflow and improving efficiency by automatically retrieving data from electronic patient records (EPRs). If you put a physician in front of one of our platforms it's so easy for them to use, as well as reducing the number of devices needed.'
Remote diagnostics
'We see a bigger need for wireless solutions and, in a broader context, not only in a hospital but in remote centres,' she pointed out. 'With our platform it will be possible to use our solution in wireless centres and have them communicate directly with an iPad or PC. So, we want physicians already using an iPad or an Android system to use our solutions on that platform. Today, our systems can communicate with those hardware systems. In fact, we have an Apple and Android version on our roadmaps for the future.
Can the collected patient data be integrated with PACS data?
'This depends on the electronic patient record (EPR) used. Today all our data can go into the same systems as PACS data and can be matched by the physician. We are also working on the capability of putting DICOM data quality images in our systems in the future.'
Are there developmental differences for Europe and the USA?
'Yes. Each country has specific challenges, so our company is organised by regions and we have a regional head of Europe responsible for identifying the needs of this market. We have products only offered outside the US, for example our CP 50 EKG machine, which is quite popular in Europe but not offered in the US. We also see pattern differences, for example US hospitals have widely adopted the portable blood pressure solution, but European acceptance is much slower. 'Our first Integrated Wall System was installed in South Africa, where it perfecly hits the needs in emergency surroundings – also true for other countries, of course. The system has been rolled out in the US and Europe, but not in Germany. They are very popular in US community
clinics. But, yes, the workflows must fit a particular country's approach.

*Dr Shimer is also excited about
its telehealth system on show in
partnership with Cisco Systems
Welch Allyn is at MEDICA
Hall 9. Booth E15