Aiding maxillofacial, small joints, cervicals and ENT diagnoses
'A precursor in Cone-Beam Computed Tomography (CBCT) imaging, NewTom is the unrivalled benchmark in radiology thanks to highly effective research standards, flawless reliability and sheer quality,' the manufacturer reports.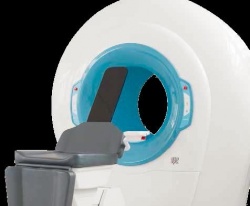 'These ingredients make 5G the best way to explore new fields of application. NewTom 5G is recommended for medical radiology specialties with a focus on maxillofacial, small joints, cervicals and ENT diagnosis. Users can explore several clinical applications, thanks to the open pass-through style gantry and the motorised patient table.
'NewTom 5G couples a revolutionary flat panel X-ray detector technology with a very small focal spot (0.3mm), so to produce the clearest, sharpest images possible. The size of the FOV available on the device can vary from the smallest 6x6 cm to the biggest 18x16 cm.
New protocol saves dose and time
'The EcoScan is the novelty among the various scan protocols available on 5G. This protocol reduces scan time and X-ray emission time, as well as dosage, without affecting the high quality of the image.
'The device features the proprietary NNT software, that creates different kinds of 3-D images, compatible with all major software on the market.'
Finally, the firm points out, NewTom optimises the use of radiation via its SafeBeam technology so 'the actually absorbed dose is less than with a comparable exam using a conventional MSCT'.