A Maltese success story
Maximising hand hygiene protocols and introducing central line care bundles reduces nosocomial infections and mortality rates, Moira Mizza reports.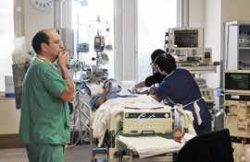 Most people associate intensive care with lifethreatening conditions or potential mortality, underestimating the other major challenges facing ICUs in today's hospital care areas such as sepsis control, quality of care and availability whatever the age, health status and nationality of the patient. These have been the major challenges encountered at the 20-bed combined medical and surgical ICU at the recently built Mater Dei Hospital in Malta.
In recent years, despite the constant challenge surrounding bed availability and staff shortage, the ICU at Mater Dei Hospital, in Malta, has been at the forefront in resuscitating and rehabilitating people from all age groups, including teenagers involved in motor vehicle accidents to postmajor surgical octogenarians needing intensive monitoring. Nor is race an issue, in fact Malta opened its ICU doors to Libyan casualties during the Libyan crisis, not to mention the ever-present availability offered to other foreign patients, including tourists and illegal immigrants – certainly a commendable effort towards the wider cross-border healthcare towards which the European Commission for Health is working.
As in other European countries, the major challenge facing on ICU is sepsis – uncontrolled severe systemic infections acquired either in the community or while in hospital. This associated with ever-increasing antibiotic resistance is the major cause of mortality in most European hospitals, taking more human lives than cancers and accidents. Thus patient safety is now by far one of the major concerns of hospital staff, especially in an intensive care setting when the patient is at his or her most vulnerable.
The unit has thus embarked on initiatives to reduce hospital acquired (nosocomial) infections, including maximising hand hygiene protocols and introducing central line care bundles. Through this, the Maltese hospital's ICU has gained its greatest achievement by significantly decreasing the incidence of bloodstream MRSA infections. In addition, although they are admitting sicker and greater numbers of patients per annum, we have not observed a higher mortality rate – in fact this decreased slightly in 2010 to 18%.
Our experience in intensive care has shown that the small size of our nation (400,000) and the stringently tight resources, while making the challenge hurdles more difficult, did not stop the health professionals involved from achieving a sterling standard of care and offering it to the widest spectrum of patients possible. This has also been possible through European funded projects that also created opportunities to link with other European ICUs. This is what, after all the EC campaign, Europe for patients is all about - better healthcare for all in Europe - and hopefully beyond.