Article • The VISION clinical trial
A landmark for nuclear theranostics as prostate cancer treatment
For nuclear medicine specialists, 2021 may be heralded as a banner year validating the use of theranostic technology to treat cancer. Long-awaited results from an international phase 3 clinical trial showed that the addition of targeted radioligand therapy 177Lu-PSMA-617 to standard-of-care treatment in patients with metastatic castration-resistant prostate cancer significantly improved their overall and progression- free survival.
Report: Cynthia E. Keen
"The success of the VISION trial is perhaps the most significant event of the past few decades and a major advance in the management of metastatic prostate cancer," write nuclear medicine specialists Professor Wolfgang P. Fendler, M.D., and Professor Ken Herrmann, M.D., of the University of Duisburg Essen and German Cancer Consortium, and Matthias J. Eiber, M.D., of the Technical University of Munich in an editorial in the Journal of Nuclear Medicine.
Nuclear theranostics use radioactive compounds to image biologic phenomena for diagnosis and specially designed agents to deliver ionizing radiation as therapy to treat primary and metastatic cancer tumors. 68Ga-PSMA-11 is a diagnostic compound that has the ability to identify prostate-specific membrane antigen (PSMA) expressing prostate cancer cells in PET/CT scans. PSMA, a transmembrane protein, provides valuable guidance managing advancing prostate cancer.
The 177Lu-PSMA-617 radioligand, developed by the German Cancer Research Center (DKFZ) in Heidelberg, as treatment for patients with recurrent prostate cancer, delivers beta-particle radiation to PMSA-expressing cells and the surrounding microenvironment. The primary endpoints of the VISION trial were to determine if the 177Lu-PSMA-617 radioligand extended progression-free survival and overall survival, with secondary endpoints including a comparison of objective response rate (the assessment of the tumour burden following treatment), disease control, and time to symptomatic skeletal events.
The 831 patients recruited for the VISION trial were randomly assigned in a 2:1 ratio to receive either 177Lu-PSMA-617 every six weeks for six cycles plus protocol-permitted standard care or standard care alone. The patients received at least one novel androgen axis drug and had been previously treated with one or two taxane regimens. Physicians selected the standard of care for every patient, but radium-223, cytotoxic chemotherapy, immunotherapy, or other treatments for which there were no safety data about drugs used in combination with 177Lu-PSMA-617 were not allowed.
Recommended article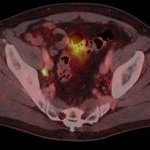 Article • Advancing diagnostic accuracy
Hybrid PET/CT imaging can fully play to its strengths and steer treatment towards more effective procedures for diagnosing prostate cancer. The examination of the specific antigen PSMA with hybrid PET imaging enables treatment monitoring with significantly higher diagnostic accuracy than conventional imaging and therefore, Professor Clemens Cyran believes, will soon become the standard diagnostic…
Impressive results for 177Lu-PSMA-617
Michael J. Morris, M.D., head of the prostate cancer section of Memorial Sloan Kettering Cancer Center in New York City, reported in an American Society of Clinical Oncology press conference, that at a median follow-up of 20.9 months, the addition of 177Lu-PSMA-617 led to a 38% reduction in the risk of death and a 4-month improvement in median overall survival. They also experienced a 5.3-month improvement in median radiographic progression-free survival, which translated to a 60% reduction in the risk of progression or death.
Secondary endpoints were also better for the 551 patients who received 177Lu-PSMA-617 plus standard of care compared to the 280 men who only received standard of care treatment. The objective response rate was 29.8% compared to 1.7%, and the disease control rate was 89.0% compared to 66.7%, respectively. Patients receiving standard of care only developed symptomatic skeletal events in a median of 6.8 months compared to 11.5 months for the 177Lu-PSMA-617 cohort.
The investigators in the VISION trial also reported the treatment to be well tolerated, but they experienced many more minor and major adverse events. Patients who received the 177Lu-PSMA-617 radioligand had significantly higher levels of fatigue (49.1% vs. 29.3% respectively), bone marrow suppression (47.4% vs 17.6%, respectively), nausea/vomiting (39.3% vs 17.1%), dry mouth (39.3% vs 1%), and kidney effects. More than half of the radioligand-administered group (52.7%) experienced more grade 3 and higher adverse events compared to 38% of patients treated with SOC alone. These included bone marrow suppression, fatigue, kidney effects, and nausea/vomiting.
Importance of this clinical trial
This success is a testament to what nuclear medicine scientists can accomplish with their unique basic biology, radiochemistry, physics, and instrumentation competence

Johannes Czernin, Jeremie Calais
"If the VISION trial succeeds, it establishes a new line of therapy for prostate cancer that becomes the developmental paradigm for theranostics: the ability to use 68Ga-PSMA-617-based imaging to identify patients for treatment with 177Lu-PSMA-617," wrote Kambiz Rabhar, M.D., of the Department of Nuclear Medicine at the University Hospital Muenster, Lisa Bodei, M.D. and Dr. Morris, both of Memorial Sloan Kettering Cancer Center in the November 2019 issue of the Journal of Nuclear Medicine.
"This success is a testament to what nuclear medicine scientists can accomplish with their unique basic biology, radiochemistry, physics, and instrumentation competence," write Johannes Czernin, M.D., chief of the University of California Los Angeles (UCLA) Ahmanson Translational Theranostics Division and his colleague Jeremie Calais, M.D., in an editorial in the Journal of Nuclear Medicine. "It also provides evidence for a powerful emerging translational and clinical research infrastructure with a rapidly evolving capability to conduct appropriate prospective clinical trials that are designed in close collaboration with leaders from oncology and urooncology. Let's celebrate the successful clinical translation of PSMA-targeted theranostics, which is among the greatest success stories in the history of nuclear medicine," they conclude.
In a September 2021 press release, Novartis, the commercial manufacturer of 177Lu-PSMA-617, reported that the U.S. Food and Drug Administration (FDA) has granted it Breakthrough Therapy designation, and that submission to the FDA and the European Medicines Agency is on track for 2021 submission.