Article • Nantes CHU
A hospital designed to fit 21st century medicine
21st century challenges are multitudinous for all. Ageing populations, a changing disease burden; increasing obesity with associated morbidities – Type 2 diabetes, cancer and cardiovascular disease; climate change pressures and more.
Report: Jane MacDougall
21st century challenges are multitudinous for all. Ageing populations, a changing disease burden; increasing obesity with associated morbidities – Type 2 diabetes, cancer and cardiovascular disease; climate change pressures and more. Any new build plan demands a low carbon footprint; respect for the environment is paramount.
To capture all those elements, the plan to regenerate a previously 10 hectare industrial site on the 'Ile de Nantes', a central region of the largest city in Western France, by creating a 'Healthcare zone' is exceedingly ambitious.
Since 2015, when the choice of architect was made, the initial planning stage has involved the input of more than 850 people from the key areas concerned. In the two years since the project was first mooted, over 150 meetings have taken place between the 57 different working groups involved. Each group is always headed by a trio of medical, ancillary and administrative staff and held in the presence of the architects. More than 1,200 modifications were made before the final plan was made public in June 2017.
Central to the hospital's architecture is the ease of the patient's journey through the hospital. Medical professionals and patient user groups have been working together to produce the best possible patient journey, which provides the ability to exchange medical information and ensure the correct care at the right time. Patient groups have also been consulted to understand their major wishes in terms of privacy and patient confidentiality, reduction of waiting times and so on. Within this framework, the need for an agreeable working environment for the many hundreds of professionals who will be based here every day cannot be ignored.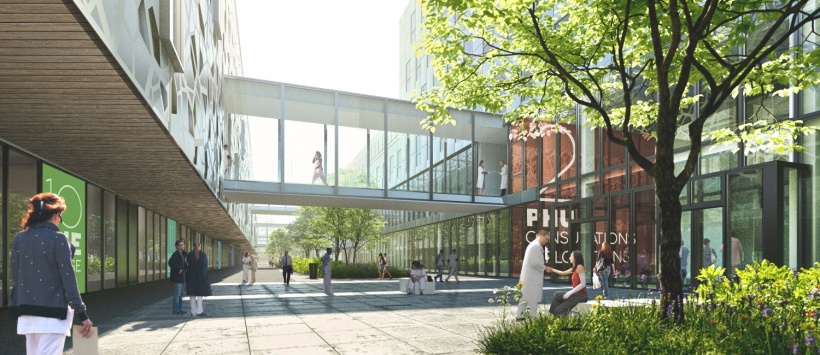 CHU Nantes
Using the mantra 'high technology and humanity', the project has objectives to provide healthcare, teaching and research on a human-scale at the heart of the community it serves. In practical terms, the new hospital will serve to re-home the current hospital group, which includes the medical and surgical obstetrics capacity of the Hôtel-Dieu and North Laennec Hospitals, as well as their emergency and ambulance services. Space has also been planned for the eventual inclusion of the René Gauducheau Oncology Institute and teams from the highly respected medical university research centres (DHU), which cover specialties such as thoracic medicine, digestive tract medicine, immunology, nuclear medicine, kidney transplantation, etc.
The new hospital has been conceived with the knowledge that medicine is evolving. This future has been considered for planning under four 'Ps' – prevention, anticipation of risks and programmes to modify behaviour; prediction, the use of genetic and other biomarkers for the early diagnosis of disease or risk; personalisation, the adaption of treatments for the individual and participation, the active involvement of patients in their care in terms of treatment choice and new technologies. As all four areas are rapidly changing considerable forward thinking is necessary.
To meet changes in healthcare provision, 64% of surgery will be performed in a day-patient setting, compared to 55% today. This reflects the adoption of robotic and keyhole surgical procedures that are less invasive than traditional methods and shorten patient recuperation time and therefore subsequent hospital stay. The rise of chronic diseases means patients may need regular visits to the hospital to monitor the progress of their disease, possibly being treated by different specialists in different services. This requires good interconnectivity between departments and access to digital patient records while respecting privacy and confidentiality.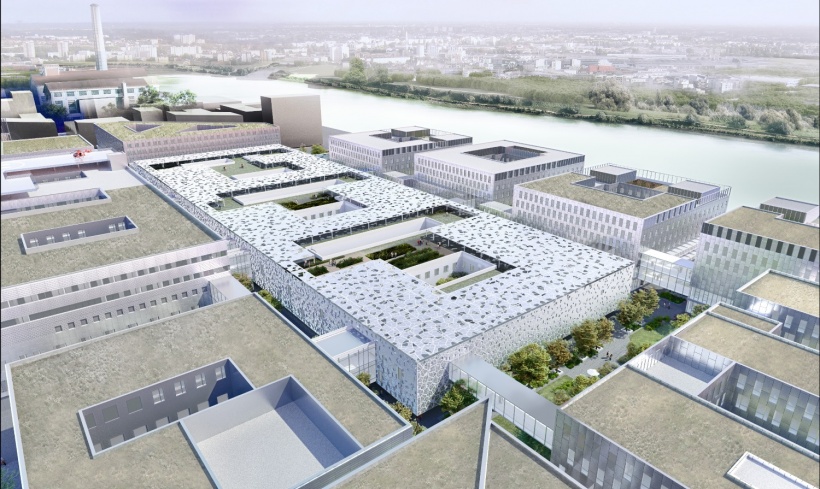 CHU Nantes
All departments are linked in an intelligent manner and are easily accessible for patients on ­stretchers or in wheelchairs; gone are the interminable hospital corridors of the 20th century. The buildings are low rise and welcoming, designed to blend into the city environment incorporating a wide central walkway. Respectful of modern building regulations while preserving functionality, the building design offers remarkable energy performance. The structure adapts to climatic changes while the use of renewable sources allows reduced energy consumption and low carbon emissions. Each building has a control panel that records its use of energy, water and medical fluids.
All are under video surveillance and have the latest in fire prevention and control systems, their maintenance and control carried out at a distance. The hospital controls its emissions, water consumption and waste production. Obviously, a project of this size would not be possible without consultation and commitment from the city and regional government. The infrastructure of the entire region will be impacted and incorporated; already two new tramlines have been agreed to improve access to the hospital site. However, as the date for the first stone to be laid is still three years away there is little doubt that further changes will be made between the new public consultation phase (September 2017) and the opening date in 2026.
Key points
Scheduled opening 2026
Work starts 2020
225 000 m2 building surface on a 10.1 hectare site
384 beds (257 ICU)
58 operating theatres

64% day patient procedures

A&E capacity 130,000 patients/year
Budget 953 million euros
Architectural/Management team: Art & Build Architect, Pargade Architects, Artelia and Signes Paysages.