40th anniversary
for the Annual Meeting of the German Society of Neuroradiology
As the German Society of Neuroradiology 40th annual meeting approached (Venue: Dresden. 31 August - 3 September), Professors Martin Schumacher (Freiburg), President of the German Society of Neuroradiology (GSN) and Rüdiger von Kummer (Dresden), the meeting's President, examine the history and potential in
this medical field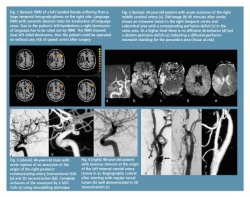 "The programme in Dresden reflects the unbelievable development of neuroradiology worldwide. It impressively shows the enormous upswing in diagnostics and therapy of central nervous system diseases and particularly in brain research.

Neuroradiology in Germany is older than the 40 years in which regular annual meetings have been held. The earliest publications, in 1905 (Schüller: The skull base on the radiogram) and in 1906 (Fürnrohr: X-rays in the Service of Neurology) witness that Wilhelm Conrad Roentgen's discovery was already in use in neurodiagnostics only 10 years later. Arthur Schüller was also the first to introduce the term Neuro-Roentgenology in 1913. For over half a century it was the neurosurgeons and neurologists who practiced and developed neuroradiology, including famous names such as Dandy, Forrestier, Moniz, Djindjian, Krayenbühl and Serbinenko. When the German Neuroradiological Working Group was founded, in 1963, and well beyond the founding of the German Society of Neuroradiology (1970), neuroradiology departments were embedded primarily in neurological and neurosurgical hospitals. Not until the 1970s did the use of the same techniques result in greater co-operation with radiology, leading to the successful recognition of neuroradiology in 1987. German Neuroradiology led the way, with a status that even now still has to be attained in many European countries. It was outdone only by Portugal, which first established the speciality of Neuroradiology.

In evolution, those creatures survive which have solid basic endowments which they can use for their own further development and profit additionally from favourable environmental conditions. Apparently neuroradiology possesses these prerequisites, since it has managed to show further decisive developments in the last two decades, despite increased pressures. This is confirmed by a quick look at the summaries of the scientific contributions to the 40th Annual Meeting.
In diagnostics, magnetic resonance imaging (MRI) has provided insight even into microscopic areas to reveal pathological cell functions. Just to name a few: cellular layer composition of the cerebral cortex or the hippocampus and populations of the same cells in core areas of the brain stem or the basal ganglia can be differentiated, previously only histo-anatomically demonstrable fibre tracts become visible. Foci only millimetres in size, which generate epilepsy, no longer remain hidden and can be neurosurgically excised if they are resistant to medication therapy. Metabolic brain function disorders can be classified by imaging and spectroscopy, sensory and aphasic deficits in the function-MRI can be revealed (Fig. 1).

The early diagnosis of stroke, so vital for therapeutic decisions, is provided in minutes by diffusion-weighted sequences and enables differentiation of tissue at risk, which may survive under rapid treatment, from those ischaemic areas (core infarction) in which the transition from functional damage to a structural lesion has already occurred (Fig. 2).

In therapy, a not inconsiderable number of surgical procedures has shifted to interventional methods of neuroradiology. Minimally invasive therapies are now considered standard, such as endovascular embolisation of arteriovenous malformations and endovascular elimination of aneurysms by coiling (Fig. 3). After the International Aneurysm Study ISAT, involving over 2,000 patients, brought convincingly better results than surgical clipping, standard treatment of aneurysms shifted from operative to endovascular techniques, so that currently ca. 2/3 of the patients are treated with coiling. By embolisation alone of AV-malformations or in combination with surgery or stereotactic radiosurgery, the complication rate could be reduced and malformations treated that could not be removed earlier due to their size or localisation. Likewise in recanalisation of acute vascular occlusions, sophisticated endovascular techniques have created completely new treatment paradigms. Re-opening, using drugs for intra-arterial fibrinolysis, has been increasingly supplemented by mechanical recanalisation procedures, whether as clot retriever systems, vacuum-rinse systems or ultrasound and laser procedures. Their application areas range over the entire central vascular system, including ocular arteries. There has also been a shift in indication for the treatment of vascular stenoses, which are increasingly treated by endovascular procedures with stent-protected percutaneous transluminal angioplasty (PTA)(Fig. 4).

In a ranking of the 30 most-important innovations of the past 30 years, MRI and CT-Scanning were at the top, followed in third place by balloon angioplasty of vascular stenoses, whereby application of these imaging modalities play a key role in the central nervous system and the supra-aortal vessels (Fuchs VR and Sox HC, Health affairs, 2001; 20: 30-42). This impressively underlines the importance of neuroradiological diagnostics and therapy.

What will research bring? The decade of the brain flows without a break into the century of brain research. Our high expectations of progress in the neurobiological examination of the brain and its functions are fully justified. Imaging procedures will depict the highest organisational level of cognitive functions, memory processes and even the experiencing of emotions in ever-greater detail, and even portray the function or coupling of neuronal networks in their complex highly dynamic relationships. Neuroradiology stands at the middle of the co-ordination of research work in the clinical partnerships between neurologists, neurophysiologists, neurosurgeons, neurobiologists, psychologists, psychiatrists, microbiologists, informatics and microsystem researchers.