Cardiohelp
The world's smallest heart-lung machine saves lives
Maquet has launched Cardiohelp, the world's smallest, lightest heart-lung machine, that can not only provide a total therapy solution for heart surgery, cardiology, intensive and emergency care, but also, due to its suitcase size and 10 kg weigh, the device can be carried by just one person onto a helicopter or ambulance for mo-bile use.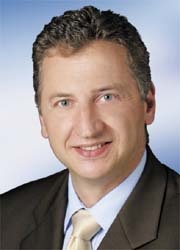 'Cardiohelp,' explained Christian Keller, Chairman of Maquet Cardiopulmonary AG, 'represents the essence of our competencies as leading providers of therapeutic concepts and as market leader worldwide in artificial respiration for intensive care. Our vision was to transfer our know-how from heart surgery, and therefore the principles of extracorporeal oxygenation and mechanical cardiac support, into other areas. In combination with first-class mechanical respirator systems, Maquet is the only manufacturer worldwide offering a complete therapy concept for patients with the most severe types of lung disease.'

The core of Cardiohelp is an integrated drive and control unit. Different types of disposable products can be docked to this compact (50 cm long, 26 cm wide and 30 cm high) and functionally designed box.

Cardiohelp is ready for use almost immediately and is easy to handle, Maquet points out. 'Trained staff can operate the equipment with a single turn-press button and a touch screen.'
Maquet also offers modular training programmes for the different uses of the equipment.
The required operating mode is configured depending on the type of use. Cardiohelp is designed for data exchange via a USB and Ethernet connection. The equipment can be connected to the mains supply or to an airborne supply system inside a plane or helicopter. Integrated lithium-ion batteries guarantee 90 minutes worth of performance without connection to mains power. This is particularly important for inter and intra-hospital transport. A universal mounting bracket means that Cardiohelp can be securely fixed to all current carrier systems. 'This mobility allows very novel areas of use for the system. It is easy to transport and can support cardiologists in high-risk intervention,' said Professor Christof Schmid MD, Director of the Clinic and Polyclinic for Cardiothoracic and Vascular Surgery at the University Hospital Regensburg, Germany.

The mobile heart-lung machine also ensures sufficient oxygen supply and stabilises circulation during inter and intra-hospital transportation.
The connection of disposable products is also easy. The connection for the HLS module (heart-lung support module) is located directly on the back and can be connected to the machine within seconds via a simple plug & play principle. The Cardiohelp system can be adapted to specific requirements in the operating theatre, intensive care ward and for transportation in three operating modes and with three disposable products.
Maquet: Cardiohelp makes proven technology universally useable
With Cardiohelp and the oxygenator pump unit developed especially for cardiac surgery Maquet has further advanced the integration of components, which began with the QUADROX-i. Apart from the arterial filter, available as an option, a new feature of the new unit (QUADROX-iR) is a fully integrated centrifugal pump. Further development of the proven and tested QUADROX system now allows a minimal filling volume thanks to the integration and compact design. The oxygenator pump unit guarantees constant blood flow, low pressure drop and, in conjunction with a low surface contact, minimal damage to blood. This has further optimised the principle of extracorporeal circulatory support (MECC) for cardiac surgery.
Apart from the use in cardiac surgery, Maquet has developed a product for long-term use in intensive care. In addition to an oxygenator, specially designed for long-term use, the machine also includes a cardiac support system. The so-called VAD system, in the shape of a novel centrifugal pump, and the integrated oxygenator is referred to as the HLS module. This heart-lung support module also contains the sensors for venous, internal and arterial blood pressure and the arterial temperature.
The premium line of products, known as HLS Module Advanced, takes the concept of integration even further. In addition to the pressure and temperature sensors, worldwide this is the first time that a system offers the determination of the essential parameters of venous saturation (SvO2), haematokrit (Hct) and haemoglobin level (Hb) as well as venous temperature (Tv) with the help of a high-tech sensor. Up to now it has only been possible to measure these parameters with an external blood analysis unit.
The product has a license to be used for transport and a license to be used in emergency medicine for a minimum of 14 days.