170 years of medical technology innovations
Maquet is possibly Europe's oldest manufacturer of healthcare equipment. Founded in Heidelberg, Germany, in 1838 the firm initially manufactured patient chairs and other healthcare equipment. Today, Maquet operates three business divisions (see box) each focusing on medical technology for operating theatres (OT) and intensive care units (ICU).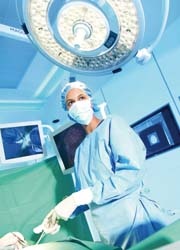 The firm is a notable subsidiary of Getinge AB, the Swedish medical technology group. This, combined with ArjoHuntleigh Extended Care and Getinge Infection Control, positions the entire Getinge Group among the world's top 25 medical companies.
Based on extensive knowledge of hospital and clinic work-flow, as well as OT and ICU requirements, the Maquet brand name enjoys international recognition for providing professional assistance throughout the planning stages of a hospital. 'This naturally includes a consideration of all the relevant medical, clinical and economic aspects,' Maquet points out. 'Coupled with the awareness that only the best products and solutions are acceptable for sensitive OT and ICU areas, Maquet sets a unique standard in medical technology – The Gold Standard.'
The Maquet Surgical Workplaces division concentrates on the design of operating theatres, providing a wide range of procedure-oriented products to enhance workflow.
These include operating tables and lights, ceiling service units, and video communication systems. 'Practice oriented, forward looking products are the hallmarks of efficient design, and Maquet's latest operating theatre table system Magnus offers an example that surpasses traditional limitations in design and operation. Because of its perfect height adjustment, the Magnus operating table surface helps surgeons to work in a relaxed position, whether they are standing or sitting. Sections that can be adjusted at extreme angles, especially for tipping and tilting, can be summed up in one sentence: Gravity becomes the surgeon's third hand,' the company reports.
Undoubtedly, efficient and effective theatre lighting is critical during surgery. Attention to both has produced a completely new approach to surgical lighting in Maquet's PowerLED surgical light, which uses light emitting diodes (LEDs) to provide a high quality, pre-focused light source of 120,000 lux, with excellent heat management.
Given that today's operating theatres must manage a considerable number of units, despite often limited floor space, the firm's ceiling service units are also designed to meet current needs.
Video imaging, now also an integral part of leading operating theatres, involves a high level of communication cables. To meet this need, the company has produced a telemedicine system of suspended conduits for the safe insertion of cabling to convey any type of digital or analogue signal, thus enabling fast access to patient data, a scanner, IRM and radiology or video images. 'The expectations for telemedicine are great. Maquet has developed the first video communications system designed specifically for medical use. It transmits both images and sound live from the operating room to the PC,' the company reports. 'It does so in top-flight digital audio and video quality. It can broadcast through the in-house IT network or to any location on the planet via Internet.'
* In 2008, Getinge AB, which is publicly listed and employs 12,800 people worldwide, achieved revenues of two billion euros. In the same year, Maquet itself generated pro-forma revenues (including the acquisition of the Datascope Corporation) of over one billion euros. Globally, Maquet employs 5,000 people in 34 sales and service organisations, and more than 200 sales representatives.